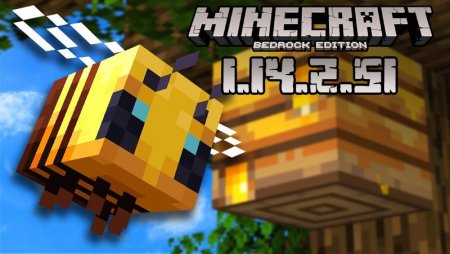 Minecraft 1.14.2.51
13 January, 2020
Game Minecraft PE
2020's first beta, that is
Minecraft Bedrock 1.14.2.51
is another modest version, but it brings a list of very important crash fixes. Let the new year start with no in-game bugs and crashes!
Please take into account that this is a beta, thus, while trying it, you won't be able to play with other users who prefer only full game versions. Also, you will have no access to Realms.
We must also warn you of the fact that the builds created in this version can be accessed only by using 1.14.2.51 or other upcoming game versions.
Changes in Minecraft Bedrock 1.14.2.51
As we mentioned above, this version contains mainly crash fixes, but besides this, it brings a text-related issue occurring when using diverse window resolutions.
And now, for the main fixes:
The crashes occurring in different situations when playing from PlayStation 4, Nintendo Switch, and Xbox One devices were fixed.

A crash occurring when using the Nether portal in the company of other entities was fixed

A crash occurring when using the crafting grid for a locator map together with a compass was fixed.

Other crashes that could have occurred during the gameplay were fixed.

If you want to have a smoother MCPE experience and never face the above-mentioned crashes anymore, download Minecraft Bedrock 1.14.2.51 by clicking on the button below, share the news with your friends and leave feedback.
Follow our
Download MCPE
section to always be up to date with the latest game updates. In addition, you will find dozens of interesting Minecraft-related articles, for example,
Minecraft PE 1.15
that relates some details about a legendary upcoming game version.
Our
website
also features many interesting
textures
,
mods
, and
maps
.
Have a nice time!
Video of Minecraft 1.14.2.51
---
13 January, 2020