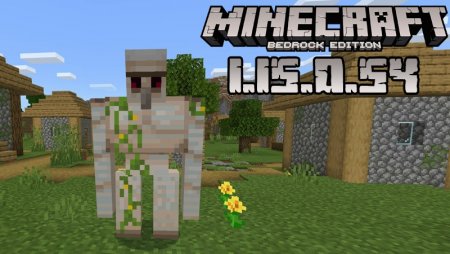 Minecraft 1.15.0.54
5 March, 2020
Game Minecraft PE
First of all, let us mention that
Minecraft 1.15.0.54
is another beta, like
Minecraft 1.15.0.53
, but of course, containing new fixes and changes. This fact means that while using it, you will not be able to play in Realms and with your friends who use a full Minecraft PE version. All the beta builds might not be very stable, as the ones created in full versions, but anyway, if you want to keep them, we suggest you make copies because they can be opened only with 1.15.0.54 or with betas that are going to be released in the future. Another important thing is that this version is going to replace your MCPE work in progress, so, before installing it back up your builds in order to avoid losing them.
And now it's time to get to the subject:
Fixes in Minecraft Bedrock 1.15.0.54
Like always, the Minecraft Bedrock developers carried out serious work on resolving some issues that could prevent players from having a smooth and pleasant gameplay. First of all, they targeted their attention to removing the detected crashes. This time there were even more than usual. Besides the usual ones that occurred during the gameplay, there were several occurring when the players used the Character Creators, in some moments when making adjustments in behavior packs, when the player traveled towards z coordinates. The Xbox One MCPE users also detected a crash occurring when they were trying to resume their games. All these crashes had to be removed along with other in-game bugs.
They also fixed some problems related to:
The teleportation of the players

Loading of chunks

Generation of Strongholds

Generation of Ocean Monuments

Spawning process of the Pillager Patrol

Access to inventory after riding a mount

Iron Golem's strolling animation

Leashing of several mobs

Some navigation arrows from the Marketplace

These and other fixes can be checked by installing Minecraft Bedrock 1.15.0.54. To do this, click on the download button below the present article.
Soon all our
website
's subscribers will have the chance to try another new version, so visit us as often as possible, not only because you will have the chance to be always up to date with the
newest game versions
, but also because we publish a lot of interesting articles on MCPE
mods
,
maps
, and other related surprises, all of them with download buttons offered for free. Enjoy your time with us!
Video Trailer of Minecraft Bedrock 1.15.0.54
Minecraft Bedrock 1.15.0.54
---
5 March, 2020