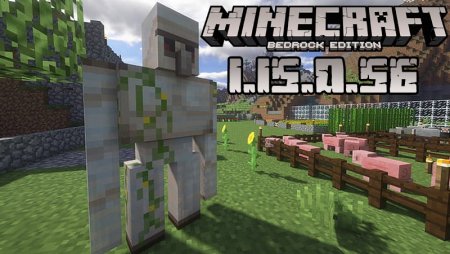 Minecraft 1.15.0.56
15 March, 2020
Game Minecraft PE
Starting with
Minecraft Bedrock 1.15.0.53
, the new game updates are getting more and more interesting, containing long and complex lists of changes and bug fixes. We hope this will become a tradition and the upcoming versions will be as good or even better. Anyway, today we have another beta, which is
Minecraft 1.15.0.56
with helpful changes. Let's see what they are:
New features in Minecraft Bedrock 1.15.0.56
Using custom blocks will not cause game crashes anymore

Using a custom recipe add-on that also returned the items to the players used to crash the game sometimes, but not anymore.

Being in lava or in water and using a potion of fire resistance or one of water breathing and simultaneously attempting to load a saved game could provoke a crash, but this issue was resolved

A bug happening when converting a world on Bedrock and this making chunks overwrite each other was removed

Starting with 1.15.0.56, the maps will also covert at the correct scale

The player's arm animation display has been subject to improvement work

The appearance of blocks that have already been destroyed was fixed

The effects of the enchanted weapons will now be applied properly

The bug that made the changed armor look the same was fixed

The sheared sheep are displayed properly now

Leaves will not prevent saplings from growing in trees

The command block user interface will now correctly fit into screens with a 4:3 ratio

Minecraft PE Bee spawn eggs can now be edited in content packs

Fixed an issue that prevented the use of custom blocks in add-on packs

Fixed a problem regarding add-ons which could lead to the premature operation of the minecraft: timer component under certain conditions

Particle animations were fixed

In the list above you can see the most important changes brought by Minecraft Bedrock 1.15.0.56, but you can find out more information about it by watching the video trailer (see the end of the article).
If the news about MCPE updates makes you happy, do share them with your friends and leave feedback under the articles that interest you most.
Our
website
, besides the
latest game versions
, also provides a big number of popular
maps
,
texture packs
, and other downloadable MCPE stuff. Enjoy your time!
Video of Minecraft Bedrock 1.15.0.56
Minecraft Bedrock 1.15.0.56
---
15 March, 2020