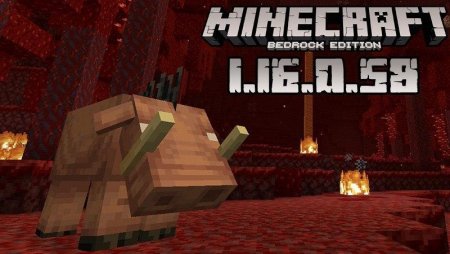 Minecraft 1.16.0.58
25 April, 2020
Game Minecraft PE
We promised that we will do our best to offer our
website
's followers the possibility to check the
latest game versions
among the first and here we are again, bringing you a brand new beta with important fixes!
Please note that
Minecraft Bedrock 1.16.0.58
is not a full version, thus the builds created in it might not be as stable as we would like them to be. Another important aspect is that while trying it, you will not be able to play in Realms and with non-beta users.
Regardless of these details, the version brings several important fixes that will hopefully make your MCPE experience better. Let's see what they are аbout:
Features of Minecraft Bedrock 1.16.0.58
First of all, we must mention that the MCPE developers succeeded to remove two serious crashes occurring when the Android users accessed the Marketplace, and sometimes when any user looked for updates in the same place.
In addition to this, they also worked on resolving the following issues:
Players not being able to remove potions in cauldrons correctly

Holding the interact button trying to use the fishing rod repeatedly not working correctly

Double-tapping certain items did not group them correctly

Incorrectly working "craft it" function

Items not getting updated whenever the player searches his/her recipe book or inventory

Of course, all of the above-mentioned bugs have been fixed and now we will have the chance to enjoy a much smoother gameplay, without getting distracted or annoyed by such problems.
Visit us regularly to find out the latest MCPE-related news and to discover a lot of interesting and popular
maps
,
mods
, and
textures
. Have a good time!
Video of Minecraft Bedrock 1.16.0.58
---
25 April, 2020