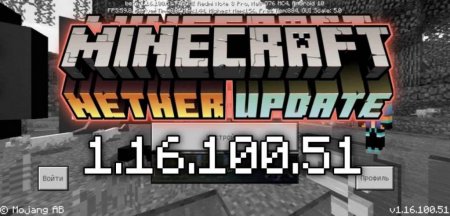 Minecraft PE 1.16.100.51
14 August, 2020
Game Minecraft PE
Only yesterday we were happily studying the new features brought to us by
Minecraft PE 1.16.20
, a very complex and stable full version and the MCPE developers decided to make one more nice surprise for us: the release of a new beta with a long list of useful fixes. This beta is called
Minecraft PE 1.16.100.51
and we will try to tell you about its most noticeable features.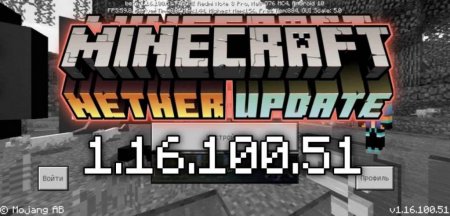 Fixes in Minecraft Bedrock 1.16.100.51
The MCPE developers detected more crashes and bugs and hurried to fix them in this version. From now on, you won't have to deal with the following problems:
Game crashing when the Minecraft PE user decides to open the Shulker Box if he/she is standing on it. This usually happened after entering a multiplayer game session

Undamaged mending items not letting the damaged ones from being fixed

Wrong Netherite movement when thrown in lava

Grindstone displaying results even if it did not modify the required item

The water in the bubble column floating incorrectly

Smelted items carrying a wrong damage value

Impossibility to stack smelted items

Bees getting stuck in their hive after coming from the Nether or the End and refusing to come out

Water not flowing properly near the edges

Falling blocks being duplicated when near portals

Villagers getting locked in other professions than required

Dragon Egg not being visible in case it is placed on a pedestal and the End Dragon gets respawned

Music getting interrupted in case the player goes into the water of an ocean biome

Sapling becoming bee nests when growing near plants

The gravity affected block breaking if the block supporting it is moved using a piston

Rails not getting powered properly along the x-axis

Dolphins failing to move towards the water

Turtles failing to move towards the water

Compasses showing the wrong direction if traveling by boat

Ghasts failing to spawn in certain light levels

Wrong movement of the Vex

Blocks not breaking after having a long falling process

Name tags not working properly

Broken ItemDescriptors

As you can see, the MCPE developers had a lot of work to do but this is not all. They have also improved several in-game features and introduced slight changes in order to make our game-play better and more interesting.
If you are ready to try this version, click on the download button, but first remember to make a copy of your existing MCPE world if you don't want to lose it.
We recommend you to subscribe to our
website
and we will send you notifications on the
latest game versions
and on the newest and most popular
texture packs
,
mods
, and more. Have a good time!
Video Trailer of Minecraft Bedrock 1.16.100.51
---
14 August, 2020