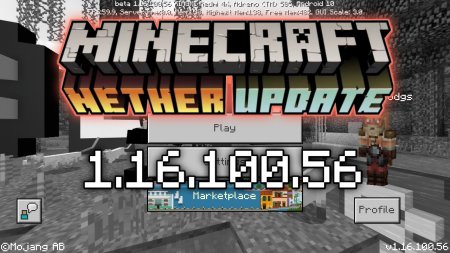 Minecraft PE 1.16.100.56
20 September, 2020
Game Minecraft PE
The weekend is still on and you are in the mood to stay at home and play your favorite game? Why don't you do this with
Minecraft PE 1.16.100.56
which is the newest game update? This time you will find out about the numerous changes made by the MCPE developers, most of them being done in relation to the technical features of the game.
Of course you remember that before downloading and installing the new beta, you should back up your existing world, otherwise you might lose it. And one more thing: unfortunately, while playing in beta versions you cannot access Realms and players who prefer only full versions.
And now let's see what the hard-working MCPE developers did this week:
Changes in Minecraft Bedrock 1.16.100.56
While exploring this update, you may notice that there are fewer issues affecting the Add-on and script engine, the item names, the achievement screen and more. In addition, the developers removed several crashes occurring during the gameplay.
The most noticeable and serious problems that were successfully resolved were:
The text-to-speech option failing to read the text in certain situations

Sign-in button not working after the player backs up from the sign-in screen

The bug making the maps disappear from the item list when the /clear command is used

The raid horn sounding too loud regardless of its location

Incorrect sounds playing when the user places and/or breaks item frames

Time not being displayed as it should in the achievement screen

Wrong calculation of the player's rewards

Achievements disappearing after timeout

Scrollbar being present even if there is nothing to scroll

Not enough acceleration for the focus navigation when the player uses a gamepad

Wrong focus persistency when the player switches from the All tab

Input Legend for a Tab appearing open even after it was selected

Besides all the above-mentioned fixes, you will discover a lot of changes affecting the features we talked about above.
To try this version, click on the download button below the video, share the news with your friends, and leave feedback.
Follow our
website
if you want to be always up to date with the
latest game versions
and with the best
textures
,
maps
, and other MCPE-related articles with free download buttons. Have fun!
Video of Minecraft PE 1.16.100.56
---
20 September, 2020