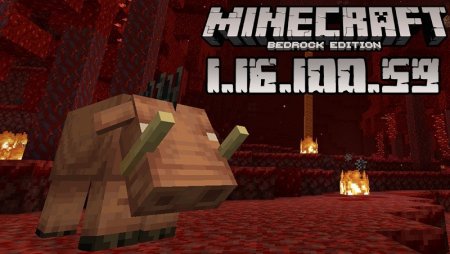 Minecraft PE 1.16.100.59
10 October, 2020
Game Minecraft PE
What can be better on a quiet Saturday evening than staying at home with a cup of tea and trying a new version of your favorite game? Today we will explore another game update called
Minecraft PE 1.16.100.59
. You will notice that this beta contains more features than the one released last week, that is
Minecraft PE 1.16.100.58
, so let us get going!
Fixes in Minecraft Bedrock 1.16.100.59
This time, the Mojang team had to work on fixing the following issues:
A number of crashes happening during the gameplay

A crash happening sometimes when the player flew or moved in any other way in his/her MCPE world

"craftingScreen.tab.commands" screen appearing under the items that can be accessed only via commands

Failure to generate warped roots in the Nether

Failure to generate crimson roots in the Nether

Failure to generate nether sprouts in the Nether

A problem that could cause specific recipes disappear from the crafting window

Missing book&quill from the Creative's inventory

Wrong size of the Pause menu profile button

Impossibility to choose a specific shake type when using the "/camerashake" option

Impossibility to insert custom items in the Creative's inventory

A request queued with "/schedule" not clearing out even after being executed and executing only when the user entered a level repeatedly and other problems related to this command

A bug related to the Blocks sync

Difficulties to install icons for items for displaying them in the UI

"Entity_collision" not taking into account the rotation on a block

"Pick_collision" not taking into account the rotation on a block

Mobs that are spawned using custom events not having a proper animation

A problem related to the "on_interact"

Dear friends, by exploring this beta you will also notice that the RenderDragon option was enabled again and some more technical modifications.
Before hitting the download button below the video trailer, let us remind you that Minecraft PE 1.16.100.59 is a beta version, thus you won't be able to play with full version users and in Realms. We also recommend you to make a copy of your existing builds, because you might lose them when installing the present beta.
And now, if you are ready, download this week's update, share the article with other players, and leave feedback.
If you want to be always up to date with the
latest game versions
and with the coolest
mods
and other MCPE-related downloads, follow our
website
and enjoy your time!
Video of Minecraft PE 1.16.100.59
---
10 October, 2020