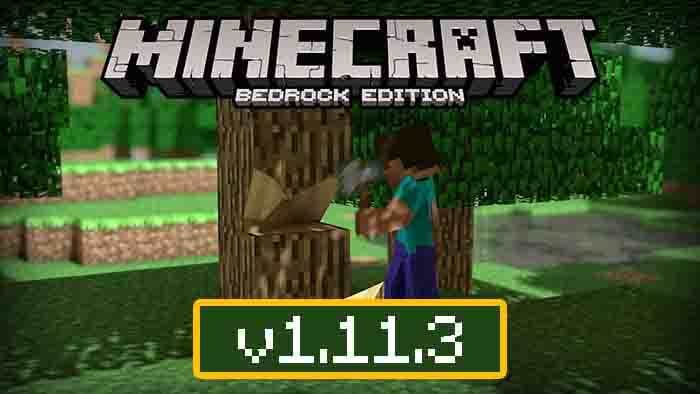 Minecraft PE 1.11.3
29 May, 2019
Game Minecraft PE
The developers of
Minecraft Pocket Edition
have received a fairly large number of complaints on the page
bugs.mojang.com
. By the way, if you found a bug in Minecraft, then
inform the developers
about it. Report errors you can on this page -
bugs.mojang.com
Let's return to the
Minecraft PE 1.11.3 update
- in this update we are waiting for a few
changes
. The changes that were implemented by the developers of Minecraft Bedrok are quite interesting.
We have published the full list of changes from the version of
Minecraft 1.11.3
to the
android
on this page below. These changes were forced because These changes eliminate bugs. Check out the new features of the game and go on to
download Minecraft PE 1.11.3 for android
on this page.
What has changed in the version of Minecraft PE 1.11.3?
Fixed a crash that could occur when mobs found the nearest attackable mob

When converting from V1 to V2, villagers now keep their XP level

Villagers cured of zombification can no longer change their profession if they have enough XP

Another fix for villagers changing their professions when they're not supposed to

Fixed pathfinding so when an entity can't float, swim, or be amphibious, it can still walk at the bottom of water

Fixed gamertags and gamerpics of Realms members not appearing on the members list

The Realms members list no longer returns to the first page when navigating to another page

When using commands, the villager and zombie_villager target selectors now target both V1 and V2 mob types
Also watch the video review of this update on our website. We have prepared for you an interesting video review, which we received from one popular YouTube channel!
Do not forget that on our website you can download great
add-ons
,
maps
,
seeds
, unique
skins
and much more!
Minecraft Pocket Edition 1.11.3
Minecraft PE 1.11.3 with Xbox Live
What's new in the game Minecraft 1.11 - read at this page!
---
29 May, 2019