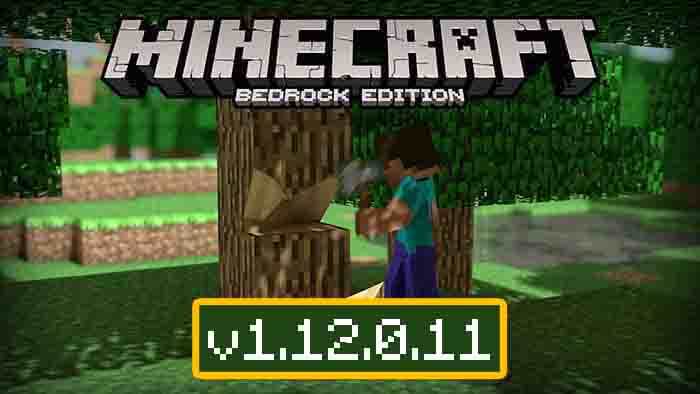 Minecraft PE 1.12.0.11
27 June, 2019
Game Minecraft PE
The development team of
Minecraft Pocket Edition
continues to fix problems in update MCPE 1.12.0! This time the update
Minecraft Bedrock 1.12.0.11
contains many important changes.
Changes that you can see in the mobile version of
Minecraft PE 1.12.0.11
increase the stability of the game, as well as fix bugs.
Below we have published the full list of changes to
Minecraft Bedrock Edition 1.12.0.11
. Before you download the update Minecraft Pocket Edition 1.12.0.11 for android - check out the full list of changes in the
game Minecraft 1.12.0.11
. The full
list of changes MCPE 1.12.0.11
published on this page below!
Changes in the game Minecraft 1.12.0.11:
Crashes/Performance

Improved FPS performance related to various particles:

Enderman's teleporting particles no longer cause consistent FPS drop, especially during boss fights

Improved performance related to bubble columns, improving FPS during underwater exploration

General

Fixed several more issues where the player's skin would revert to a default one if the network connection changed

Skins equipped from the 'Recently used' section are now correctly applied when selected

Minecoin offers now display correct amount of coins given in offer

Gameplay

Floating blocks no longer turn grass to dirt at night

Mobs

V2 zombie villagers now have the correct name in death messages instead of a placeholder name

Commands

Command selectors are back to resolving in less that 0.5ms as opposed to 4+ms

`villager_v2` works in selectors again, and targets both villager and v2 villagers
Above, we published the full list of changes that we received on the
official page
of Mojang. If you have already familiarized yourself with all the changes that the
Minecraft Bedrock
developers prepared for you - then you can
download Minecraft 1.12.0.11 for android
.
Do not forget that you can download not only the latest version of Minecraft from our website, but also add-ons to the game.
You can go to the
add-ons
section for Minecraft, where you can download add-ons that add new mobs to the game. You can also download
texture packs
that improve the graphics of Minecraft. Open the menu of our website, there will be more information!
Minecraft Pocket Edition 1.12.0.11
Minecraft PE 1.12.0.11 with Xbox Live
MCPE 1.12.0 was released. Download and learn what's new in Minecraft 1.12.0 you can here!
---
27 June, 2019