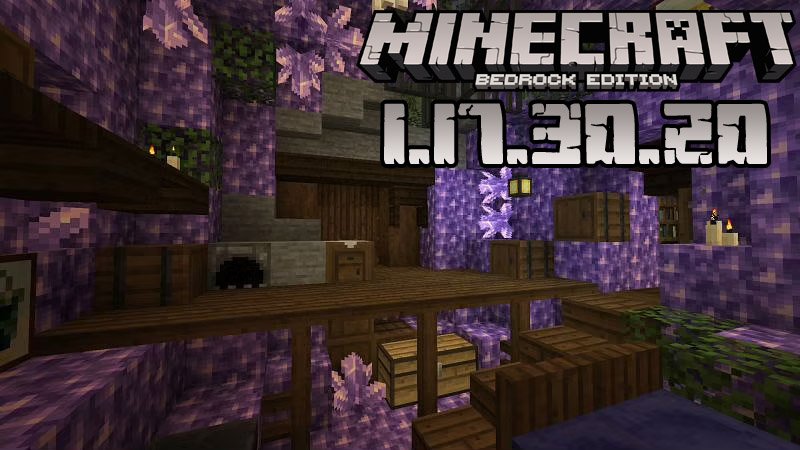 Minecraft PE 1.17.30.20
20 August, 2021
Game Minecraft PE
This week is very busy for us because we want to tell our
website
's subscribers about the new game updates released recently. In this article, we will discuss
Minecraft PE 1.17.30.21
which is a beta. The version does not bring any noticeable changes but instead, it contains fixes of many problems affecting mobs, the user interface, the HUD, and vanilla parity issues. Continue reading to learn about the most important ones.
Features of Minecraft Bedrock 1.17.30.20
The MCPE developers continue their hard work at improving the Bedrock version of Minecraft, so they:
Fixed the skeletons who couldn't hold their bows with both hands

Fixed the issue of players getting fall damage when eating chorus fruit

Fixed crashes occurring when downloading worlds from the Marketplace

Fixed several bugs making the Text-to-Speech read chat messages, items, names, and other things incorrectly

Made light blocks visible when held

Made light blocks display their degree of illumination

Corrected the hitboxes of light block




Fixed the way barrier blocks are destroyed when they are not held

Fixed an error making boats remain in the inventory after placing them in the water

Fixed a number of bugs affecting the user interface

Made wither spawn even at negative altitudes when Experimental Features are enabled

Removed the ability of magma cubes and ghasts spawning in too small areas

Enlarged the magma cube's hitbox

Corrected the glowing texts on signs

Fixed the villager's behavior when trading with pumpkins

Removed the ability to place more candles if there isn't any support block under the initial one

Fixed a bug making the sky render through walls and ceilings when fog is activated

Besides all these fixes, the developers made several technical updates for the addon creators and for testing how Bedrock works.
If you are ready to try this beta, go on, but don't forget about your friends: share this article with them so they can enjoy the update too and leave feedback.
Continue following us and very soon we will inform you about one more new beta. This will also give you the possibility to try many cool
mods
,
maps
, and other game-related surprises. Have a good time!
Video of Minecraft Bedrock 1.17.30.20
---
20 August, 2021