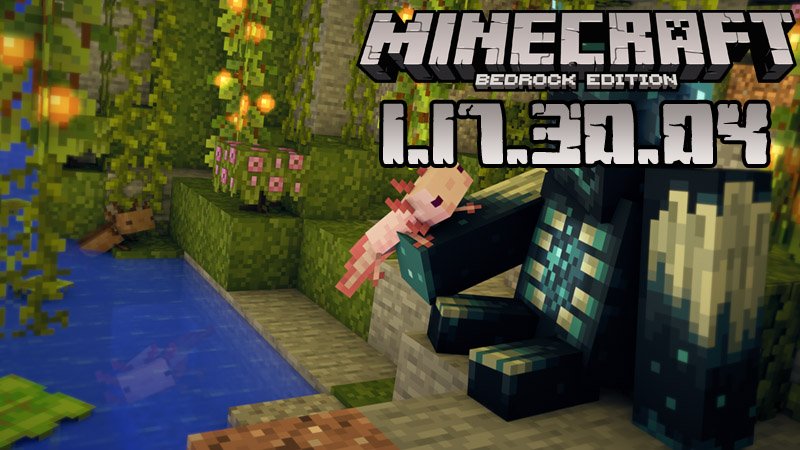 Minecraft PE 1.17.30
25 September, 2021
Game Minecraft PE
We are very happy that you accessed our
website
today because this way, you will be among the first players to find out about another grand game version that is meant to change all your Bedrock experience for the better.
Minecraft PE 1.17.30
brings an absolutely crazy number of new features, changes, fixes, and technical updates. Besides this, it is a full version, so you can use it to play in Realms and with players who do not accept using beta versions. Moreover, the builds created in such versions as the present one are way more stable than those created in betas.
Changes in Minecraft Bedrock 1.17.30.04
As we already mentioned, there is an extraordinary number of changes to explore, so you will have to discover many of them for your own, but we will try to enlist the most important ones in the text below.
Thanks to this wonderful release you will be able to:
Use a new game rule that can save the beds and the respawn anchors from exploding. This option is called Respawn Blocks Explode




Detect and define corner blocks in areas you want to save. This option is called Corner Block and it should be used in the Save Mode with the Detect button.

Light up caves and avoid meeting hostile mobs in caves because these will only spawn in complete darkness from now on.

Admire a more logic and nice transition between different biomes and terrains

Notice a better defining of blocks that are on land and in water

Discover many new large ore veins and make your mining experience more interesting and productive

Discover a new kind of caves called Noodle caves.

Find the perfect spawn point, as closer to the origin as possible

Notice that the Achievement screen is not in the same place, that is in the Profile screen because it was moved to the Pause and Main Menu screens. In addition, this screen was updated.

The game crashes less often than before

The texts introduced in the Book & Quill do not make the game lag, even if they are big in volume

Will spawn next to your bed after sleeping, not outside because the Bed behavior was improved

Enchantments are weighted

Abandoned villages generate less often

RTX was improved

Every cartographer offers different, undiscovered maps

The spawning logic of iron golems was improved

Axolotls spawn only under certain circumstances, that is if there are up to ten blocks under the planned spawning spot and never in bubble columns

Armor stands drop the armor and tools they are equipped with after being destroyed by lava

Phantoms do not over-spawn

Baby goats don't have horns and they look like in the Java version

Skeletons and other undead mobs burn when inside powder snow

Shulkers do not stack on top of each other in clumps when generating

Lightning is not able to strike mobs through multiple blocks

Mobs do not look deformed in the structure block view

You can summon withers under y=0

The collision box of the medium-sized magma cube is of a normal size

Mobs get damage and knockback effect when affected by the Thorns enchantment

You can make bees pollinate vines just like they pollinate flowers and sweet berries

The enchanting table emits a constant level seven light

The color of birch and spruce leaves remain the same, regardless of the biome they generate in

Bonemealing moss blocks on tuff makes it spread to grow lush plants

Vines grow properly after being harvested

Warped forests have smaller amounts of crimson roots and fungi and crimson forests have smaller amounts of warped fungi

Villagers buy pumpkins as they do with the rest of the products

Monster Spawners do not emit any light

Dispensers can collect powder snow

Sea pickles do not emit light when the water is removed with a bucket

You can use campfires and torches to melt snow layers

Tridents are displayed normally in the player's hand

Mobs and projectiles move normally when seen from a distance

You can place potions in the brewing stand manually

Glow lichen breaks in a second when sheared

Campfires can be stacked in the inventory

More sounds are affected by the Player and the Block volume sliders

Text-to-speech works better now

The user interface works more smoothly and has fewer bugs

Command /structure works normally now

Dear friends, you must admit that this version is really a very good one, but we assure you that there is a lot more to discover about it and to do this, watch the video trailer below and install it.
We know that the articles about the
MCPE versions
are the most popular, but perhaps you will also be interested in exploring our
Mods
,
Maps
, and
Textures
sections. Please share your favorite articles with your friends, leave feedback, and have a good time!
Video of Minecraft Bedrock 1.17.30.04
---
25 September, 2021