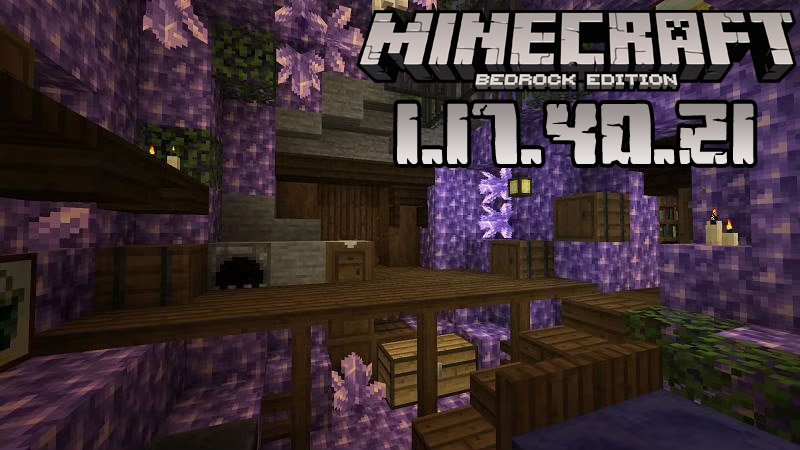 Minecraft PE 1.17.40.21
27 September, 2021
Game Minecraft PE
Last week was a very busy one both for the game developers because they had to complete a very big and serious full version called
Minecraft PE 1.17.30
and for us, the players, who had to explore all its features. Today we have another new version to check and this is
Minecraft PE 1.17.40.21
. Even if it is not as complex as the previous one and it is a beta, we recommend you try it because it also contains a lot of interesting features.
Experimental features in Minecraft Bedrock 1.17.40.21
Like they always do lately, the MCPE developers paid special attention to the Experimental features. This time, they:
Updated the cave and flat world generation so it would fit in the new world height and depth even better when upgrading the saved chunks below the y=0 level with the required toggle on (Experimental Features). We must mention that the chunks below Bedrock upgraded previously will remain the same. The newly-upgraded flat worlds will generate starting with the y=-64 level.

Players will be able to fly with elytra above the limits set previously. This way you can fly above y=319 if you have the Experimental features toggle enabled.

Copper will generate up to the y=96 level




Besides the experimental features, the developers also:
Made mobs that burn avoid pathfinding in lava and fire

Made bee nests generate correctly

Fixed the wrong results expected from hovering top snow layers over grass and flowers

Fixed the elytra behavior when flying upwards

Made dyed signs with formatted color text overwrite the formatted color texts

Made fossils generate less often

Corrected the placements of dungeons and fixed problems affecting their generation when the Experimental features are on

Made iron golems generate exclusively on solid blocks

Fixed a bug making the weapons held by pillagers invisible

Fixed a bug preventing players from seeing a button prompt when using non-touch controls to ride mobs

Fixed a bug preventing players from equipping skins from the Marketplace

Corrected the navigation process when using the Character Creator

Fixed a bug making a sidebar open after expanding skin packs in the Dressing Room

Made default clothes from the Dressing room modify their colors in case the color of any other item was changed previously

Made the featured items from the player's profile screen open the featured catalog from the Dressing Room

Fixed a bug making some back appearance pieces cover some profile screen elements

Like they always do, the game developers also continued to update the technical side of Minecraft Bedrock by making changes and fixing issues.
We hope your Monday won't be too busy and you will have enough time to try this new beta. Please be kind and share this article with other players so they can check it too and leave feedback.
Continue following our
website
if you want to be up-to-date with all the game-related news. This will also give you the opportunity to be the first to try the freshest
mods
,
maps
, and other surprises. Have a good time!
Video of Minecraft Bedrock 1.17.40.21
---
27 September, 2021