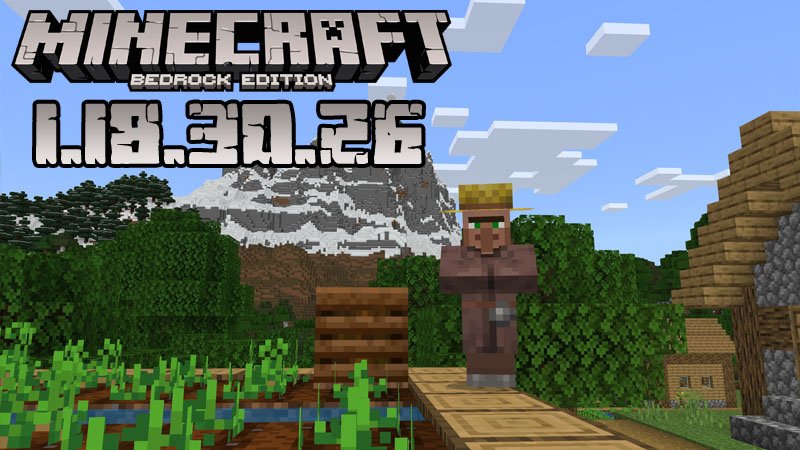 Minecraft PE 1.18.30.26
20 March, 2022
Game Minecraft PE
If you are an active Bedrock user, you should always be up to date with the changes developed in the newest
game versions
. This week Mojang Studios released a fresh one called
Minecraft PE 1.18.30.26
and we want to share all the information we found out about it with you.
General changes in Minecraft Bedrock 1.18.30.26
Waiting for something exciting like the release of Minecraft PE 1.19 is not easy, especially if you are a real fan of this game, so the game developers decided to introduce some of its features in the current betas. In the update we are talking about now, they also added a new experimental feature and updated an existing one, that is:
The goat horn. When using it, you will hear new sounds and they will be random for every goat. The screaming goat will also make a new sound. Every time one of these animals ram a block of stone, packed ice, wooden log, or emerald/iron//copper ore, it will drop one of its horns, but for this it has to have at least one. By the way, you will notice that some goats have only one horn, but this is not available for baby goats. Now you can also find goat horns as loot when searching in pillager outposts.

Copper horns. That's the new feature we mentioned above. They can also be found in pillager outposts but you can also craft them. To do this, you will have to use ordinary horns and copper ingots. Depending on your actions, you will hear that they make different sounds. In crafting, you can use horns from screaming goats and the result will make other kinds of sounds.




This is what you will discover by enabling the Wild Update toggle. To find out about the rest of the changes, continue reading.
While preparing this update, the MCPE developers had to resolve issues affecting:
The game's technical aspect: knockback goal-related bug, adding entities in chunks that have entities from early betas, amount of elements in the CraftingTableComponent

UI: inaccessible Behaviors Pack tab, items that get dropped in Pocket UI, possibility to modify the thumbstick in the settings menu.

Mobs: bug affecting large mobs in certain maps, iron golem's attacks not being stopped by the knockback resistance, mobs making hurt sounds when they should make death sounds, killing pillager captain not giving bad omen.

Other issues: Hunger bar remaining unchanged regardless of the player's actions, some blocks being used as fuel while they are not intended for this task, camera shaking incorrectly when the player gets damage.

If you want your friends to read this article, you can share it with them. This way all your company will know everything about the latest changes done in relation to your fav game. You can also leave feedback if you want to tell us about your opinion on the new beta.
Keep visiting our
website
on a regular basis and this will not only give you the possibility to learn about the freshest game-related news, but will also provide a lot of
maps
,
mods
,
textures
, and other surprises that you can try for free. Have a good time!
Video of Minecraft Bedrock 1.18.30.26
---
20 March, 2022