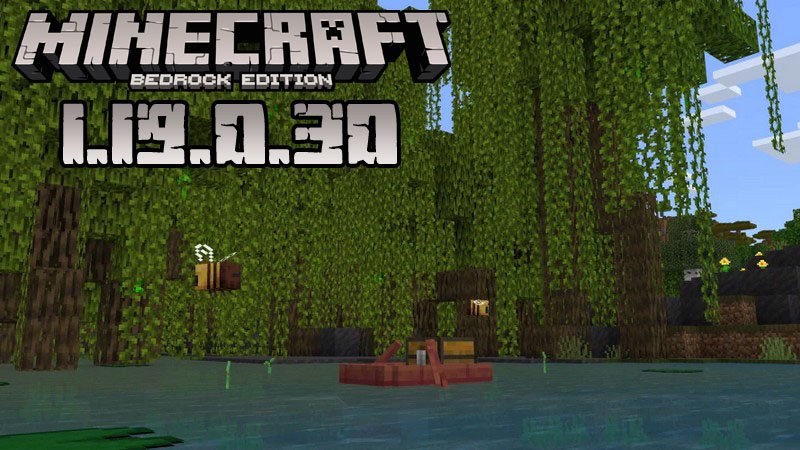 Minecraft PE 1.19.0.30
8 May, 2022
Game Minecraft PE
This week is coming to an end and you were worried that you won't get the chance to try any new versions? Well, taking into consideration how the Mojang team works lately, this is unlikely. They managed to release not one, but two updates, but in this article, we will talk only about one of them, namely
Minecraft Bedrock 1.19.0.30
.
What's new in Minecraft Bedrock 1.19.0.30
If you are reading the articles published on our
website
regularly, you are most probably familiar with all the features introduced into Minecraft Bedrock lately. In the present beta, the game developers optimized most of them, and most importantly, they fixed serious issues affecting them. Here are the features that required more attention from the Mojang team:
The Mangrove Biome (Roots not burning and being located in the wrong inventory tab, propagule growing too fast and being ignored by bees, wood and logs having wrong map colors)

Mud (blocks not breaking when falling on it, wrong location in the inventory, incorrect sounds)

Frogs and Tadpoles (wrong number of dropped XP, incorrect sounds)

Ancient Cities (generating in lava/water pools, darkness effect glitches, trap mechanisms working incorrectly)

Sculk (vibration detection errors, failure to serve as support blocks for other kinds of blocks)

Warden (attacking non-mob items, emitting sounds when he shouldn't, outdated textures of sonic boom particle)

Allay (failing to reach items when leashed)

Boats with Chests (not breaking correctly)




All the issues mentioned above have been resolved, but the developers could not release the beta containing only these fixes. They have also continued to improve the cool new experimental feature called The
Spectator Mode
. Now, when the player enables it, all his/her actions in progress are being canceled (for example if he/she is interacting with an item or riding a boat) and he/she can only glide and walk through walls or other barriers. While in this mode, the player can only be a spectator and this means that he/she won't be able to attack, interact with things and mobs, build structures, and use the inventory.
If you are also a map maker or/and an addon creator, you will also discover several really useful technical updates to help you in your activity.
Dear MCPE fans, until the article about the following game update is published, you have enough time to explore the present one, so hit the download button and enjoy.
Keep following us and besides the freshest news about the Mojang Studio team's work, we will give you the possibility to try the newest and the most popular
texture packs
,
mods
, and
maps
. Have a good time!
Video of Minecraft Bedrock 1.19.0.30
---
8 May, 2022