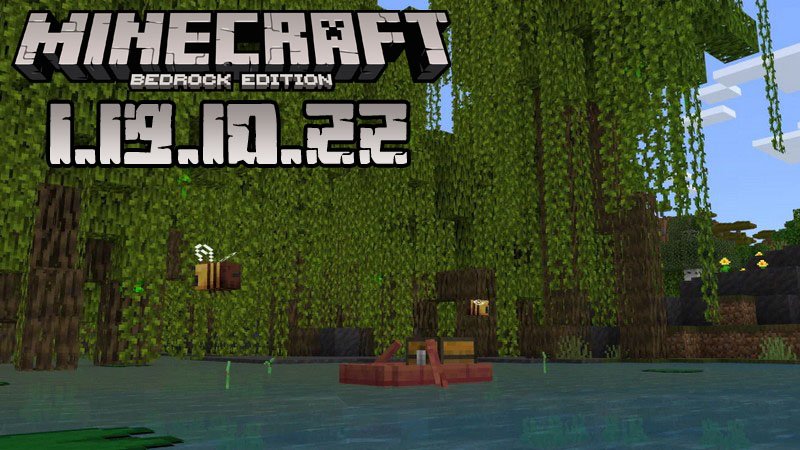 Minecraft PE 1.19.10.22
16 June, 2022
Game Minecraft PE
Many people are enjoying their vacations in this period, but not the people working on our
website
and not the Mojang Studios developers. These guys continue to make our favorite game better and better and we monitor their activity and share all the information with our subscribers. Recently, after releasing the grand
Minecraft PE 1.19.0
, a new game beta appeared. It is called Minecraft PE 1.19.10.22 and you can download it immediately after reading this article.
What's new in Minecraft Bedrock 1.19.10.22
This beta brings several modifications to a couple of Wild Update features, namely:
The Sculk Catalyst. As you already know, when a mob dies near a catalyst, the catalyst blooms, but what happens if there are more than one catalyst in one place? Well, starting with this beta, the closest one to the dead mob is going to bloom. Another important fact you should know about is about the new It Spreads achievement. You can unlock it by making a catalyst bloom as told above, but it gets unlocked only in case the dead mob does not have XP.

The Allay. Now Allays can be duplicated. To obtain such a result, you should give it one amethyst shard. When the Allay gets the shard, it makes a sweet dancing animation and emits a heart. You can duplicate allays as much as you want, but note that they have cooldown periods that last several minutes. You will also notice that the allay starts to dance as soon as it hears a jukebox, but its dance lasts only as long as the jukebox plays or if it doesn't fly too far away.




The game developers also fixed problems affecting:
The game's stability (crashes happening because of mobs with a flocking component)

The graphics (fog set on negative fog start creating bugs, "particles_blends" being culled in Render Dragon)

Commands (hostile mobs spawned with commands not behaving correctly)

The Spectator Mode (users from other chunks being culled away)

Effects (Haste I and Resistance not working correctly)

Items and Blocks (some kinds of goat horns making incorrect sounds and having wrong names, amethyst clusters breaking when they should not, namely when attached to sculk sensors, chests in boat chests not opening properly, impossibility to place cut copper slabs, launched carved pumpkins not fulfilling their mission as intended)

Mobs (parrots not getting poisoned when eating cookies, all mobs vanishing when using the nether portal, frogs laying eggs in wrong places, warden emitting strange particles when emerging)

This is the most important information on this update, but you can find out more details by watching the clip below.
If your friends play Minecraft PE too, don't hold the information about this release to yourself. Share the article with them and discuss the features. You can also leave feedback if you want to tell us what you think about the carried-out changes.
Keep following us and very soon we will tell you about the second new beta and about other
game versions
that are still under development. You can also explore our collections of
maps
,
textures
, and other content and download as many as you like for free. Have a good time!
Video of MCPE 1.19.10.22
---
16 June, 2022