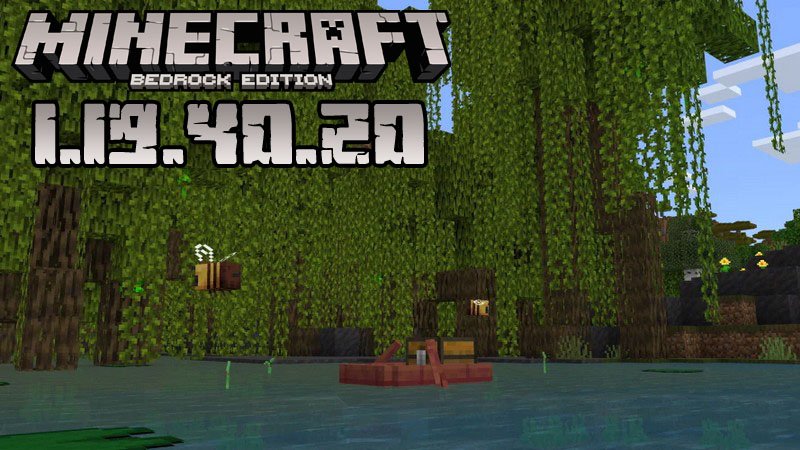 Minecraft PE 1.19.40.20
13 September, 2022
Game Minecraft PE
This time the developers of the Mojang team along with the most active players detected a lot of issues. Happily, they were all fixed and
Minecraft Bedrock 1.19.40.20
beta is the result. We hope you have enough time to explore it. We guarantee that you will enjoy it much more than the previous
Minecraft Bedrock 1.19.22
and Minecraft Bedrock 1.19.20.25.
Bug Fixes of Minecraft Bedrock 1.19.40.20
The problems that were identified and resolved used to affect:
The game's stability and performance (crashes caused by arrows with unrecognized data values and by animated structures in certain situations)

The accessibility features (text background opacity not working correctly when at 0% and in other several situations)

Graphics (water on waterlogged blocks not looking exactly as it should do in certain circumstances, bug affecting the position of the screen on some devices)

Player's profile (useless "Clear Account Sign in Data" button on all devices used for playing Minecraft Bedrock, except Switch)

UI (uncomfortable methods of finding certain things in the Settings, text-to-speech not functioning correctly when it comes to death messages, inaccessible achievements for certain world templates, players not moving in the correct directions in VR)

Blocks and items (falling blocks breaking in situations when they shouldn't, partial blocks getting replaced by huge fungi, pistons working incorrectly when near build limits, redstone emitting signals with incorrect strength in different situations)

Mobs (baby villagers behaving incorrectly when iron golems give them flowers, guardians falling incorrectly from water sources, tamed animals not always following the player, village from grove biomes not looking as they should, mobs living in ancient city structures)




Spectator Mode (spectators dropping xp orbs after death and levels resetting every time the players die)

Touch Controls (inability to change the color scheme, status effects not being positioned correctly on some devices, impossibility to turn off the flight mode using the joystick, etc)

There are several other changes that you will discover by downloading and installing this release, but we will let you discover them individually, but if you prefer knowing absolutely everything about it, you can watch the video trailer displayed below.
Visit our
website
as often as you can and you will always know about the new
game versions
and about any important actions performed by Mojang Studios. Have a good time!
Video of MCPE 1.19.40.20
---
13 September, 2022