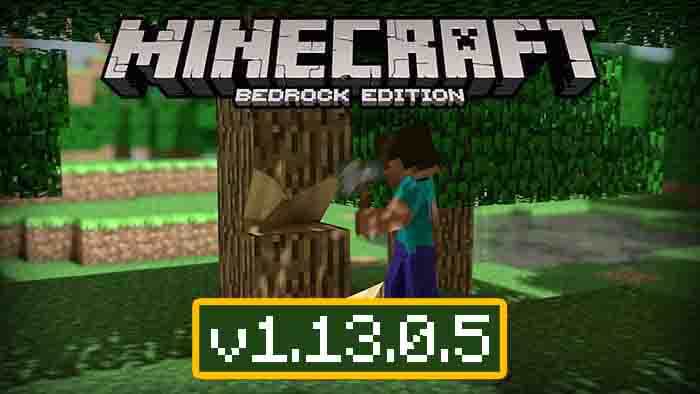 Minecraft PE 1.13.0.5
8 August, 2019
Game Minecraft PE
Update
Minecraft Pocket Edition 1.13.0.5
fixes most bugs found. During beta testing
Minecraft Pocket Edition 1.13.0.4
developers received a lot of complaints.
On this page below we have published a complete list of fixed bugs in
Minecraft Bedrock 1.13.0.5
. You can download the Minecraft PE 1.13.0.5 update for Andriod from the link below. Before you download the game
Minecraft 1.13.0.5
, we recommend that you watch the video review MCPE 1.13.0.5!
Below we have published the full list of changes in the
update MCPE 1.13.0.5
. This list of changes applies not only to Android platform players, but also to players who have devices with support:
Windows 10
,
Xbox One
!
What was fixed in the gameplay of the game?
Armor, weapons, and tools are once again suggested in the recipe book

Mobs once again drop equipment as loot

Fixed an issue with breaking blocks when boarding a boat or holding a bow or crossbow

Mobs no longer drop fully repaired items as loot

End Gateway Portals will no longer generate on the main obsidian platform in the End

Arrows are no longer fired backwards when shooting at the ground

Leaves on trees no longer get cut off on chunk boundaries during terrain generation

Players can no longer push lit TNT entities
Fixes that relate to mobs in the game MCPE 1.13.0.5
Dolphins now follow players in boats

Fish and Dolphins with 'FollowFlock' goal state no longer stop moving in the water

Fixed fishing float texture

Fixed elytra left wing flipped model issue
Graphic changes in the game
Fixed arm movement animation when switching between items in first person view

Fixed player missing right arm issue in VR mode
User Interface Changes
Resized the highlighted area in the create world menu, which was slightly too big
And so, above you could read the full list of changes in the game Minecraft PE 1.13.0.5 beta. If you have not done so, then go ahead. After you read the
full list of changes
in
MCPE 1.13.0.5
, you can proceed to download the update Minecraft 1.13.0.5 for Android. The link to the apk file Minecraft Pocket Edition 1.13.0.5 is on this page below.
Also you can download various add-ons for the game
Minecraft PE 1.13.0.5 for Android
. Here are links to the most popular sections of our website:
add-ons
,
maps
,
seeds
,
skins
,
textures
,
guides
, as well as follow the news of Minecraft on this website.
Minecraft Pocket Edition 1.13.0.5
Minecraft PE 1.13.0.5 with Xbox Live
---
8 August, 2019