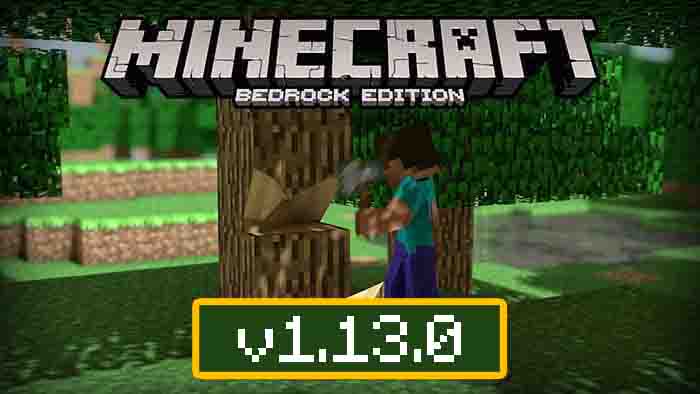 Minecraft PE 1.13 & 1.13.1
13 November, 2019
Game Minecraft PE
Minecraft Pocket Edition 1.13.0
is now available for players who own Android devices. In this update, new mobs have appeared: foxes, browner cows and much more.
On this page you will find all the details of the update Minecraft 1.13. Read this article to the end and you will know all the features of Minecraft PE 1.13!
We also recommend that before reading this article, you should watch a brief video review of Minecraft 1.13, which we received from YouTube.
Foxes and their features:
The main achievement of the Minecraft Bedrock developers was the addition of a new creature to MCPE - it's foxes!
Minecraft players for mobile devices have long been waiting for foxes to appear in the Minecraft world and finally it happened.
Below we published detailed information about the foxes! Enjoy reading!
Added the Fox!

Added the arctic Fox as a variant

Foxes now spawn as arctic variants when in snowy climates, and polar bears will attack them unprovoked

Trusted Foxes defend trusted players

Foxes can pick up and carry items in their mouths

Foxes may eat what they are carrying, sometimes with interesting results!

Coordinates can now be tab-completed when writing commands

Added new "PersistComponent" for mob persistence

Added new and improved Structure Blocks

Save and Load features are behind the Experimental Toggle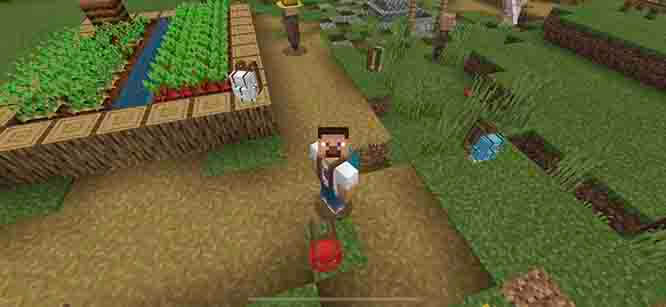 Features Minecraft 1.13.0
Below is published information on the main features of the update for Minecraft PE 1.13.0. Recommended reading. This information will be useful to you. You will learn about the main changes and innovations Minecraft Poket Edition 1.13.0!
Added Wither Rose

Added Suspicious Stew

Item Frames can now be placed on the floor and ceiling!

Added the Brown Mooshroom

Forged by lightning bolts!

Added abandoned Villages

Added the Light Block for mapmakers

This supports auxiliary data from 0 to 15 for light level

The invisible end rod (variant 6) is now auto-upgraded to the new light block

Light blocks are supported via /give, /fill, and /setblock.

Added successful Village Raid celebration

Added game credits

These can be viewed after defeating the Ender Dragon, and also through a new button found in the Settings menu

New note block sounds!

Added note block functionality for glowstone, haybale, block of emerald, pumpkin, soul sand, block of Iron, bone block, wool, packed ice, clay, and block of gold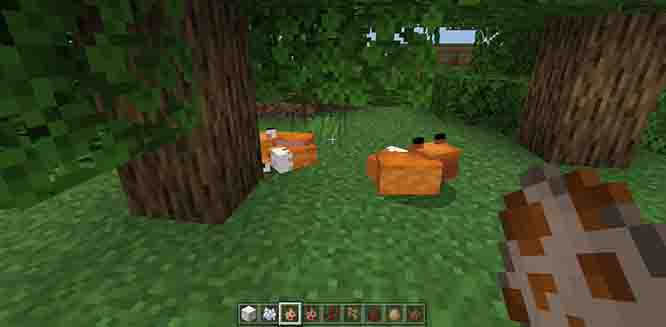 Skin Editor Features
At the end of Minecraft 1.13.0 beta, developers added a skin editor to the game. Using the skin editor, you can create and edit existing skins. A very useful tool for creating custom skins! Skin Editor is also available in Minecraft 1.13.0 [Full / Release]
Introducing the Minecraft Character Creator

Personalise your avatar in a number of ways, including body size and shape, limb replacement and tweaking of eyes, mouth, hairstyles and colours, facial hair and skin tones

More than 100 items will be available for free. There will also be a range of custom accessories, created by the Minecraft team, available for purchase

The Character Creator is currently available to beta testers, but will also roll out to Minecraft Earth, as well as all other Bedrock platforms like iOS and
Nintendo Switch, once the beta has concluded

Traditional custom skins can still be imported as before, on Windows 10 and mobile, using the following steps: Profile > Edit Character > Classic Skins tab > Owned > Import > Choose New Skin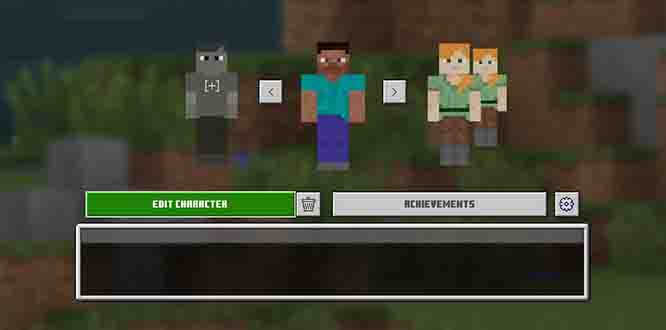 We hope this article has been helpful to you. Our website gives you the opportunity to learn about all the features of
Minecraft 1.13 for Android
.
On this page we have attached the link
apk file Minecraft PE 1.13.0
. On our website you can
download the game Minecraft PE 1.13.0
for free.
Our website is not limited to the ability to download Minecraft Pocket Edition updates. We also have various add-ons for Minecraft. If you want to add new blocks and items to the game, then go to the section
mods for Minecraft
. We also have high-quality
texture packs
,
seeds
,
skins
and much more!
---
13 November, 2019