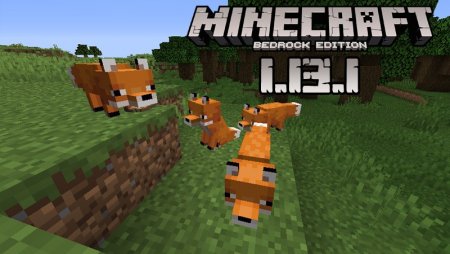 Minecraft 1.13.1
17 November, 2019
Game Minecraft PE
This weekend is coming slowly to an end but the surprises on our
website
only begin. Today we will give you the chance to find out the features of the latest MCPE versions and will attach download buttons to them. One of these versions is
Minecraft 1.13.1
, a full game version that not only brings some important changes and fixes but also allows you to play with other people who also have full versions installed and to join Realms. Moreover, the builds created in such versions are more stable than in betas.
Changes in Minecraft Bedrock 1.13.1
There were a number of problems preventing players from having a smooth and nice Minecraft PE experience. The developers had to work both on the major issues like crashes occurring every time when the player attempted to join Featured Servers and Realms. Another crash used to arise sometimes when the player was throwing a lingering potion.
Other, less important, but still annoying problems were detected in big part by the most detected MCPE players. The incorrectly working View Bobbling, the fact that players got into wrong spots when using portals, the chests appearing invisible sometimes and several other issues related to skins like the Elytra becoming invisible every time the player imports a custom skin or the impossibility to use the Founder's cape on imported skins were all fixed by the hardworking game developers.
If you want to find out more about this version, we suggest you watch the video trailer featured below this article or even better, download it and see for yourself!
For more news like the version described above, we highly recommend you to follow our
Download MCPE
section. We promise you new surprises coming very soon.
In case you want to look even further in the future and see what the developers are preparing for the players at the beginning of 2020, read our article about
Minecraft 1.15
!
Video Trailer of Minecraft Bedrock 1.13.1
---
17 November, 2019