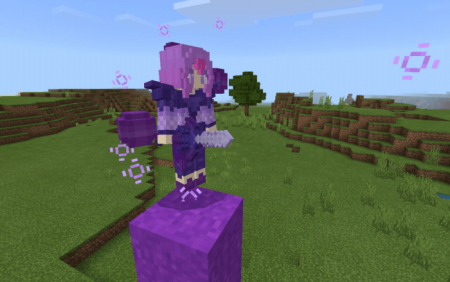 Addon Territory Of Heart 1.14
20 May, 2020
Minecraft PE Mods
Addon Territory Of Heart
welcomes us in a totally new MCPE world, a world where you can make new friends, fight horrible bosses and discover a lot of new and interesting things.
Because you will have to fight with some new and strong bosses, you have to have some decent weapons. The addon brings the following ones:
Moon Tear Sword
that can attack in four different ways
Shadow Sword
that works not only like a normal sword, but also as a gun because it shoots bullets
Winter Rant Sword
shooting photospheres
Crescent Sword
works like the previous one but it has a bigger attack damage
Crescent Wand
is not an actual sword, but in case of danger, you can use it to teleport in another place.
And now it is time to meet your new enemies:
Yunji, the Pool Hermit
is very strong and has two stages
Pine Dryad
, a winter dryad. This guy is not as strong as the previous boss, but his attack might be deathly, so take good care.
Shuomo Yi
, the winged she-boss is even weaker but her main power is her ability to spawn minions
Poisonous Swamp Dragon
also has two stages
Swamp King MonsterYueqing Tian
shoots photospheres and has the ability to teleport
With the above-listed bosses, you can have a very interesting experience and use their abilities in your favor because they all have target points. This means you can use it clicking on the ground and they will attack any mob located near them.
As you can see by reading about your new enemies, you are going to have a hard time and nothing makes things easier than friendship. This addon gives you the possibility to make friends with two NPCs. They are:
Yuelo Tian
is a very pretty girl. You can obtain it from a spawn egg from your creative inventory, or, if you prefer playing in survival mode, use an emerald block, four cakes, and four pink eyes to obtain such an egg. This cute girl can sleep, sit, walk, read, but if you want to, you can ask her to protect because she is not as sweet as she seems at first glance. Offer her emeralds and she will switch to an attack mode, and she will make SPAR explode destroying mobs around her. In addition to this, you can obtain an enchanted book from her by offering her a book and a Lapis Lazuli. She can even build a house for you if you will give her a diamond. Yuelo Tian is a very good friend.
Pine Dryad
is the second available NPC. He can be obtained in the same way as Yuelo Tian, but in survival, you will need an emerald block, two saplings, and four snowballs to craft its spawn egg. This boy has similar abilities to the previously-described friend, except he does not give enchanted books and does not build houses. You can approach him with a pixage and he will bring useful items to you.
Note that you cannot have more Pine Dryads and Yuelo Tians in your MCPE world. Every time you create a new one, the old one will disappear.
If you want to have some fun with this awesome addon, hit the download button below, share the article with other Minecraft PE players, and leave feedback.
When you will get bored with the above-described bosses and NPCs, you can try the rest of the
mods
and
maps
featured on our
website
.
Important!
To be able to use this addon (as well as other ones), make sure to install one of the
latest game versions
(at leat
Minecraft PE 1.14
).
---
20 May, 2020