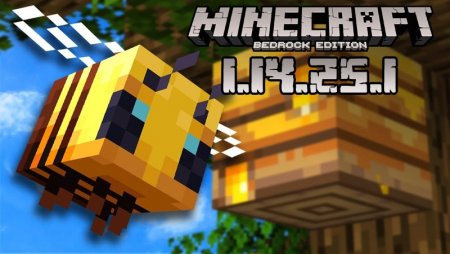 Minecraft 1.14.25.1
26 January, 2020
Game Minecraft PE
After a short vacation, the MCPE developers finally released a new game version with several fixes.
Minecraft 1.14.25.1
is a beta version, so before pushing the download button, we recommend you to recall the rules regarding betas. They were described in the previous articles featuring beta game versions, for example in
Minecraft 1.14.2.51
.
And now, let's see what the developers managed to fix this time:
Main fixes in Minecraft Bedrock 1.14.25.1
The developers fixed some crashes occurring during the gameplay plus a couple of additional ones.

Fixed the strange feature of transparent blocks to prevent mobs from spawning on the same Y axes.

Fixed the problem that didn't allow wolves to move towards one another if the player wants them to breed.

Fixed the tooltip of the honey bottle showing the wrong message.

The setblock command used on beehives and bee nests provoked a wrong texture of these items, but it was also fixed.

Fixed the position of the parrots when they are sitting on a shoulder.

Fixed a bug related to the split screens, when a player joins the game and the first one who was already there decides to leave it.

These are more or less all the changes featured in the present beta version, so we can only wish you a pleasant gameplay.
If you have any suggestions or just want to say "thanks", you are welcome to leave feedback. Also, remember to share the article with your MCPE friends so they can enjoy the new update too.
In addition to the
latest game versions
, you can also discover a lot of interesting articles with download buttons on our
website
, for example,
texture packs
that are developed to make your worlds more vibrant and beautiful. Visit us on a regular basis to always be up to date with the best Minecraft-related novelties.
Video of Minecraft 1.14.25.1
---
26 January, 2020