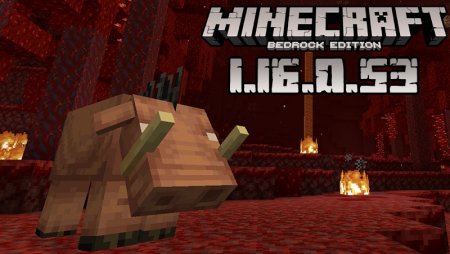 Minecraft 1.16.0.53
29 March, 2020
Game Minecraft PE
More than a week passed after the spectacular release of
Minecraft 1.16.0
but we still can't get enough of it. Anyway, it is time to go further and check a new game version which is a step forward to the release of a full game version, stable and pleasant to use.
Minecraft Bedrock 1.16.0.53
brings a list of helpful fixes. Let's see what they are аbout:
New fixes in Minecraft Bedrock 1.16.0.53
Like usual, the developers fixed the occurring crashes

The maps placed in frames were improved

Some Character Creator features are more stable now

Certain Bedrock dedicated server documentation features were improved

Chunks are loading properly in Realms now

The Alex skin texture was corrected

An error related to world templates affecting the players using Gear VR was resolved

The maps will have the right zoom level when created

The Villagers will be able to work normally now because the error related to their goals was fixed

The sheep will have the correct texture now after being sheared

All the enchantments will be applied correctly now

All the music disc names will be displayed in the right languages now

The error preventing the sign text from being visible through transparent blocks was resolved

The animation scale will now use a linear interpolation between the keyframes

The issue affecting certain selectors not was fixed

If you want to find out more details about the present beta, we suggest you watch the video trailer below before clicking on the download button.
Please keep in mind that this version is a beta, thus you cannot play with full version users and in Realms.
Visit our
website
to always be up to date with the
latest game versions
and to be able to download and share a lot of cool
maps
,
texture packs
, and other interesting Minecraft PE novelties. Enjoy your time!
Video of MCPE 1.16.0.53
---
29 March, 2020