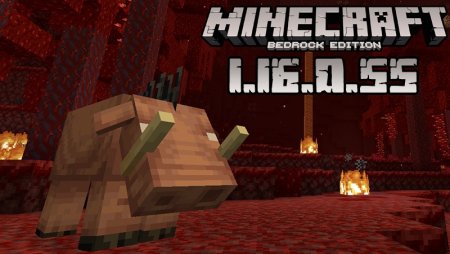 Minecraft 1.16.0.55
5 April, 2020
Game Minecraft PE
Did you manage to fully explore
Minecraft 1.16.0.53
? We hope you did because it is time to welcome a new game beta, with new features and fixes.
Just like the previous one,
Minecraft Bedrock 1.16.0.55
is a beta version so unfortunately there will be no Realms and game playing with friends using full versions for now, but don't panic because our
website
offers a very wide choice of downloads available to everybody.
If you have any worlds you are working at the moment, we recommend you to make copies of them, because the present version will replace them as soon as you install it, so you might risk losing them for good.
And now, let's find out what's new:
Features of Minecraft Bedrock 1.16.0.55
First of all, we must mention that this time the developers together with several very active players detected many crashes, one of them affecting the iOS users in particular. Happily, they were removed successfully and will no longer prevent us from having a nice and smooth gameplay.
In addition to the crash fixes, the developers also worked on updating several features. In our opinion, the most important ones are:
The ability to collect water from water bubbles (for this you can use a bucket)

The possibility to go fishing with a parrot on your shoulder (earlier the fishing rod used to get attached to the bird, this fact preventing the player from fishing normally)

The fire charges getting consumed after lighting TNT

The smooth camera option being smooth again like it normally should be

Chunks loading properly, even in worlds that are bigger than two hundred and fifty MB

Light propagation working properly and letting the hostile mobs spawn as they normally should

The ghast hitbox matching its rendering

The Iron Golem walking normally, not with its legs swinging excessively and unnaturally as it did before

The NPC animation, geometry, the experience orbs, and fireballs being data-driven

Corrected the glint texture when this is added to compasses

In addition to these updates, the Mojang team had to fix several not very critical bugs like for example the screen twitching in cases when players die in the Nether or the player icons looking like white spots on locator maps.
There are also several minor modifications done in relation to the graphics and to the scripting but we will let you discover them for yourselves because we are sure you can't wait to hit the download button faster, but before doing this, we recommend you to take a few minutes and watch the video trailer below the text.
If you are happy about this release, be a good friend and share it with your MCPE buddies and leave feedback.
Make sure to visit us more often to always be up to date with the
freshest MCPE versions
and to discover lots of new
mods
,
texture packs
and more. Enjoy your time!
Video of Minecraft 1.16.0.55
---
5 April, 2020