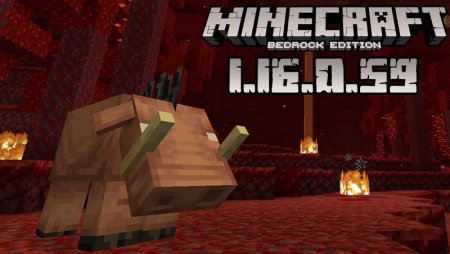 Minecraft 1.16.0.59
3 May, 2020
Game Minecraft PE
Are you ready to welcome a list of cool updates related to the Nether? Hopefully, you are, because
Minecraft 1.16.0.59
, which is the freshest game beta brought us a long list of changes related to this mysterious but fascinating place.
We must mention that comparing to
Minecraft PE 1.16.0.58
, the previous beta, this one has more new features for us to explore and more bug and crash fixes. Because we are sure you want to install and try it as soon as possible, we will describe only the most noticeable fixes but still, we have to let you know that the hard-working Mojang team did a great job at updating the behavior of many mobs, some graphical issues affecting the iOS and Android users, and of course at removing the detected crashes.
Fixes in Minecraft Bedrock 1.16.0.59
The developers introduced a new crafting recipe for creating chains in bastions

Starting with 1.16.0.59, you are going to find magma cube spawners in bastions

Now you will find less ruined portals in the Nether but the good thing is, there will be chests containing fire starters

The frequency of noises in the nether was reduced

The name of the "Pigstep" music disc starts with a capital letter

A new sound was added for the soul fire

The fortune enchantment was fixed

The sudden healing (resetting) of the Edge Dragon was fixed

The spawning frequency of the Nether mobs was modified

Piglins drop gold ingots from their hands if attacked

Zombie Piglins are not afraid of fire now

Mobs are able to equip netherite armor correctly now

Piglins and Hoglins run away from the Zoglins as soon as they see them

The sound of Hoglins transforming into Zoglins was corrected

The Hoglin and Piglin spawn eggs now correspond with the Java edition

The Piglin's hand movement was corrected

Fire on soul sand was modified to have a blue flame now

These are the most important features you will discover by trying Minecraft Bedrock 1.16.0.59, but if you want to find out more details, we recommend you to watch the video trailer below before downloading it.
Because this is a beta version, do not forget to make copies of your existing worlds in order to avoid losing them.
Please share the news about the update with all your MCPE friends and leave feedback.
Visit our
website
regularly not to miss the upcoming game versions and to discover the most interesting
maps
,
textures
, and other Minecraft PE surprises! Have a great time!
Video of Minecraft Bedrock 1.16.0.59
---
3 May, 2020