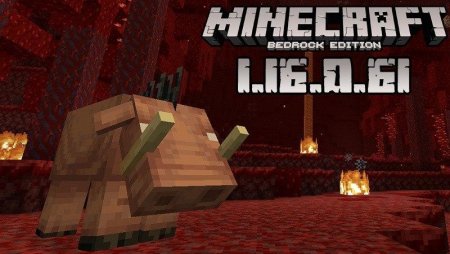 Minecraft 1.16.0.61
16 May, 2020
Game Minecraft PE
The days when new versions are released are definitely the best! Last week we had the chance to check
Minecraft 1.16.0.60
and we hope you managed to discover all its features because today we have a long list of fixes and minor changes to explore.
Minecraft 1.16.0.61
contains several fixes from the previous version too, but in this article, we will discuss only the new and most important ones.
General changes in Minecraft Bedrock 1.16.0.61
This time, the MCPE developers worked mostly on removing a lot of graphical issues and some bugs affecting the player's user interface. The most noticeable problems were:
Chunks flickering after the user changed the values of the render distance

Maps turning invisible sometimes

Paintings not rendering properly

Beacon beams not rendering properly

Wrong flame animations on burning mobs

Wrong flame animations on flame arrows

Wrong work of some animated textures

Wrong textures of the firework particles

Controller cursor not rendering properly

Tooltip background not rendering properly

Enchanted items flickering when the user moves the cursor on them

Stuck state occurring when the player is in the "Your Realm will be soon updated" window screen and presses the "Back" button

Impossibility to type in Korean or in Chinese using a virtual keyboard

Text on signs being displayed incorrectly (not fitting within the sign's borders)

Anvils reading "XP cost" instead of "Enchantment cost"

Impossibility to select items from the inventory with touch controls when using the classic user interface.

In addition to these fixes, the developers removed several crashes and bugs related to the blocks, mobs, and a few commands.
If you want to find out more about the present version, we suggest you watch the video trailer below.
Before downloading it, make sure to make copies of your existing MCPE worlds, because 1.16.0.61 will replace them.
If you liked our article and the new game beta, share the news with all your Bedrock friends, and leave feedback.
Make sure to visit our
website
regularly to always be up to date with the
latest game versions
and with the most popular
mods
,
texture packs
, and other cool Minecraft PE surprises. Enjoy your weekend with us!
Video of Minecraft Bedrock 1.16.0.61
---
16 May, 2020