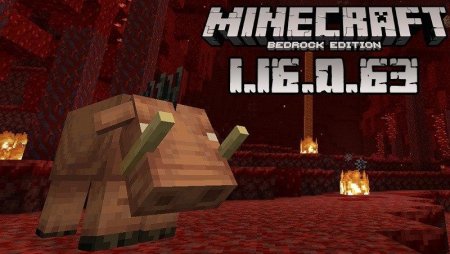 Minecraft 1.16.0.63
21 May, 2020
Game Minecraft PE
It might seem strange, but after the release of
Minecraft PE 1.16.0.51
the Mojang Team released an update under the name of
Minecraft PE 1.16.0.63
, not 1.16.0.52 like it was expected. Anyway, such facts are rather normal if we are talking about beta versions. Let's better focus on its features, which this time are very interesting and numerous.
What's new in Minecraft Bedrock 1.16.0.63
Like we already told you, this time we have a very long list of changes, but we will tell you only about the most important ones, letting you reveal the rest of them individually.
As always, the MCPE developers had to deal with several crashes impeding us from having a smooth and nice gameplay. Well, the ones that they detected have been successfully removed and won't bother us anymore.
In addition to this, they made some important improvements regarding the game graphics, user interface, blocks, mobs, and commands and resolved the bugs affecting them. Let us talk about the most noticeable ones:
The Nether biomes have been dispersed in such a way as to look similar to the Java nether. The density of the Warped Forests was even reduced in comparison to the rest of the biomes.

The problems faced by the Xbox One users when accessing the Marketplace have been fixed

Updated Minecraft Bedrock credits

Updated textures of several bricks, blocks, doors, etc.

The behavior of the piglins and zombified piglins was improved and now interacting with these guys is way more interesting

Several problems faced by the players when playing in split-screen were removed

Serious work on improving the sounds and music related to the Nether biomes, blocks, and mobs

Villagers will be able to pick up harvest even if their inventory is full

A weird issue making lava drop raw food was fixed

Improved features of the Nether Spawn Anchor

All the chests from the Bastion Remnants will have loot

Charcoal is even more helpful now because it can be used to make campfires. You can also use it to create Soul Fire.

The silk touch enchant now works on a lot of things, including the respawn anchor and several Nether plants

The behavior of the striders has been slightly modified to make it similar to the Java game edition

Maps are displaying walls, slabs and other things correctly

When the MCPE player falls and has to reload his/her game, he/she won't spawn on top of a block anymore

Pathfinding on soul sand blocks is possible now

The behavior of some mobs, while they drown in lava, was changed

After picking up items, mobs won't consume them and won't drop them

The error making domesticated mobs disappear if transferred to the Nether (or out of it) was resolved

Angry bees are much slower now than before the release of this beta

Glass panes will connect to walls properly from now on

Iron bars will connect to walls properly from now on

The bug making some textures disappear from the maps after the player reloads his/her MCPE world was fixed

The server tab navigator was improved

The user interface of the smithing table looks much better now

These and other changes can be discovered by trying the present beta version, but first remember to make copies of your Bedrock worlds, because as we all know, new betas replace existing ones.
If you are as happy as we are about this update, share the good news with other MCPE players, and leave feedback.
Follow our
website
to find out about the
newest MCPE versions
among the first and to discover dozens of interesting
maps
, useful
mods
and other surprises. Have a good time!
Video Trailer of MCPE 1.16.0.63
---
21 May, 2020