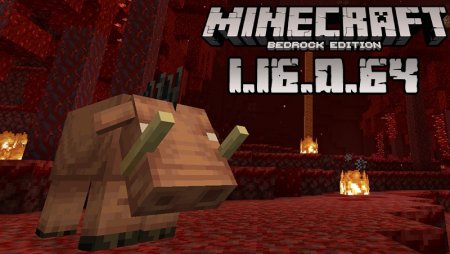 Minecraft PE 1.16.0.64
29 May, 2020
Game Minecraft PE
If you managed to try
Minecraft PE 1.16.0.63
and learn about its features, it is time to get to the next beta, which is
Minecraft PE 1.16.0.64
. You probably already noticed that it is another beta, not a full version, thus your access to Realms is still forbidden. So are your friends who use full game versions, but don't get upset because you can get back and install a full version anytime after exploring the first one. If you are planning to do this, keep in mind that the builds created in this version won't be accessible using earlier game versions, so, if you are creating something meaningful and grand, we would suggest you make a copy.
And now, let's see what this update brings us:
New bugfixes in Minecraft Bedrock 1.16.0.64
The hard-working Mojang team had to fix the following bugs:
Impossibility to join Dedicated Servers

Tile entities losing their data in certain situations

Newly introduced Nether entities, blocks, biomes and more generating in older game versions this producing regression

Zombie villagers that are cured not being able to breed

Rabbits moving much slower than the rest of the mobs

Mobs who path-find not getting to the end of the path

Block textures disappearing when looking from a high altitude

Sounds that contain numbers in their names not sounding correctly

These and a few more fixes can be discovered by installing the present beta, but to find out more about it, we recommend you to watch the video trailer before hitting the download button.
If you want your friends to find out about the new update among the first too, share this article with them.
Visit our
website
and you will also find a lot of interesting
textures
,
mods
and more in addition to the
latest game versions
. Enjoy your time!
Video of Minecraft Bedrock 1.16.0.64
---
29 May, 2020