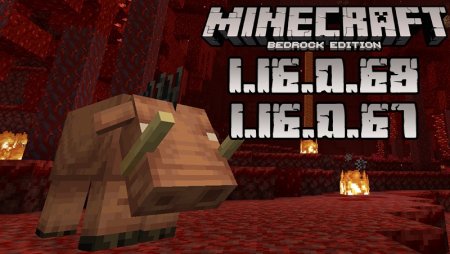 Minecraft PE 1.16.0.68 (1.16.0.67)
13 June, 2020
Game Minecraft PE
Start this summer weekend with a new game beta of the grand Nether Update, which some of us know as
Minecraft PE 1.16
! This week's beta is
Minecraft PE 1.16.0.68
and it brings fewer changes than the rest of the versions featured on our website lately, but since they are making our gameplay smoother and crashes happen less often, we are very glad about its release.
We hope you remember the rules and recommendations regarding beta versions, but if you don't, you can check any other earlier published article on a beta to learn about them. For example, you can take
Minecraft PE 1.16.0.66
.
What's new in Minecraft Bedrock 1.16.0.68
Even if the fix list is pretty short this time, a big part of it contains serious crash fixes. The MCPE developers noticed that the game used to crash in the next situations:
When players using Xbox Life accounts try to access them

When players using Microsoft accounts try to access them

When players are offline and try to access their accounts

When players want to sign in multiplayer

In addition to these crashes, there were more bugs related to the access to the player's account and sign-in process, so the developers had to pay special attention to this topic.
Besides this, it was detected that the mobile MCPE users had problems sending and receiving game invites, but this issue, like the rest of them, was resolved.
If you want to find out more information on the described-above update, we recommend you to watch the video trailer below, and when you are ready, hit the download button.
Follow our
website
and besides all game versions, you will discover very many popular
maps
,
mods
, and more. Have a good time!
Video of Minecraft PE 1.16.0.67
---
13 June, 2020