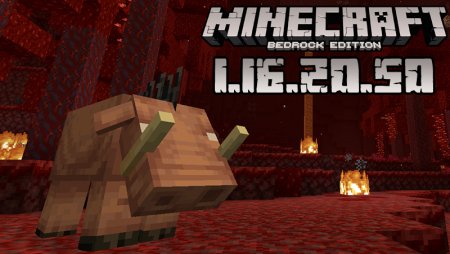 Minecraft PE 1.16.20.50
27 June, 2020
Game Minecraft PE
Last week and the week before it we explored two new betas, namely Minecraft PE 1.16.0.67 and
Minecraft PE 1.16.0.68
which brought just several fixes. The players which are always waiting for something noticeable and important were a little disappointed by this fact, so the Mojang team developed a new update where they carried out a lot of nice changes related to the Nether and even introduced a new hostile mob called Piglin Brute. This is
Minecraft Bedrock 1.16.20.50
.
Main changes in Minecraft Bedrock 1.16.20.50
Like we already mentioned, the MCPE developers made many new changes related to the Nether, but the most exciting one is the introduction of
Piglin Brute
. This mob is stronger and more hostile than other mobs found in the Nether and cannot be fooled like Piglins with gold. Be very careful when you are around these brutes because they will attack you with an axe immediately. Because they are so tough, they don't even wear any armor.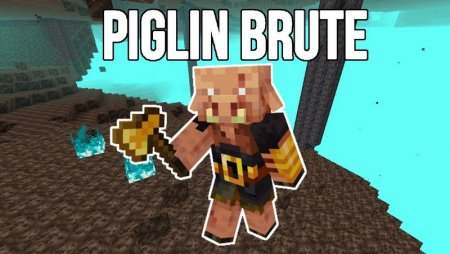 And now, let us tell you about other important features:
Starting with this update, the spawn radius for all the mobs is of 44 blocks

Improved and introduced new sounds for the Nether Warts, Netherite armor (when being equipped), Zoglins, climbing vines, processed Warped and
Crimson materials

Piglins will not pick up entire stacks of items from now on. Instead, they will pick up one item at a time

Husks' favorite armor is not chain armor anymore. Now they prefer Iron armor

Now you cannot use other materials than quartz blocks to craft quartz bricks

Modified Piglin's behavior (affecting mostly its arms)

Tooltip "open" will not be displayed every time the player looks at a Piglin

If you choose to kill a Piglin while it is admiring a gold ingot holding it, it will drop namely that ingot

Now you will have to spend as much time to destroy hyphae blocks as you do for stem blocks

Items made from netherite will not bounce repeatedly when thrown in the lava

Corrected light level of the soul campfire

Items with no collision will not slow down the boats anymore

Dear friends, to find out more features, we suggest you watch the video trailer below the present article and if you are curious to explore them all (and meet Piglin Brute), hit the download button.
Follow our
website
to always be up to date with the
newest game versions
and to discover many new
texture packs
,
maps
and more and don't forget to share your favorite articles with your MCPE friends and leave feedback. Have fun!
Video Trailer of MCPE 1.16.20.50
---
27 June, 2020