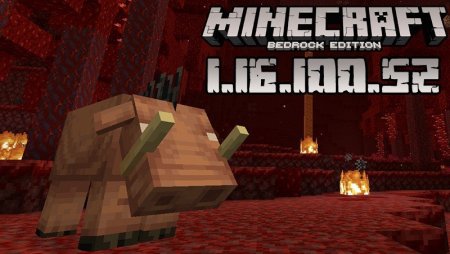 Minecraft PE 1.16.100.52
20 August, 2020
Game Minecraft PE
Last week, in
Minecraft PE 1.16.100.51
, the MCPE developers made many changes to make the game features more like those in the Java edition of the game. In
Minecraft PE 1.16.100.52
that we will talk about below, you will notice that most of the work was done to improve the technical part, but they also did not forget to fix the detected crashes and other problems.
Fixes in Minecraft Bedrock 1.16.100.52
As we already mentioned, the technical part of the game was subject to many useful updates:
The Actor properties: some fields that were previously not valid in specific custom content will now be displayed as an error.

Error checks that will show the content log in case a name is not valid have been added

A correct error will be thrown in case the user tries to load an undefined custom material

New data perimeters for managing two specific behaviors were exposed

The developers also added three new commands, namely /structure, /playanimation, and /ride. The first one is used for saving and/or loading structures, the second is for running animations, and the third is for making an entity ride another one

The SetBannerDetailsFunction can now support the customization of non-Illager banners and you can specify different colors (example: red, yellow, silver, magenta and others) and patterns (example: flower, rhombus, gradient, mojang, and others)

MCPE users can now create a Brewing Stand with blackstone

MCPE users can use command /give to spawn farmland

MCPE users can pick up farmland using Pick Blocks

The error preventing fence gates from aligning normally to other blocks was fixed

The target blocks won't be able to power any blocks on top of them now

The error preventing Nether roots from being eliminated when there are specific blocks above them was fixed

Any Jungle woods are suitable for placing cocoa beans now

The XP orbs are not affected by light levels anymore. Their brightness maximal all the time.

The bug making dropped items float too deeply was removed

The failure of dragon eggs to drop if killed by explosions was fixed

The path-finding option was improved and updated

Before watching the video trailer and clicking on the download button, let us remind you that this update is a beta, thus your access to Realms and non-beta players is forbidden while trying it. We also recommend you to back up your existing builds, because the beta will replace all your work in progress and you might lose it.
If you liked our article and the news about the new version, share it with your friends and leave feedback.
Subscribe to our
website
and you will always be among the first to find out about the
newest game versions
and about the most popular
texture packs
,
maps
, and more. Have a great time!
Video of Minecraft PE 1.16.100.52
---
20 August, 2020