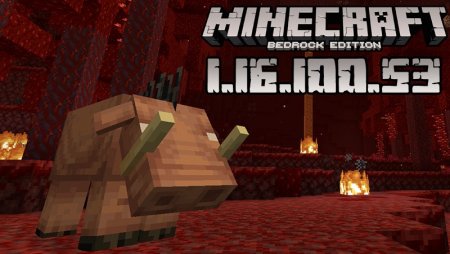 Minecraft PE 1.16.100.53
28 August, 2020
Game Minecraft PE
Dear friends, last week the Mojang team released
Minecraft PE 1.16.100.52
, a version that brought us a lot of interesting changes and technical updates. This week they released a new beta that contains fewer features, but they are still important as long as they are meant to make our Minecraft PE experience better and smoother. Let us see what is there to find out about
Minecraft PE 1.16.100.53
.
Bugfixes in Minecraft Bedrock 1.16.100.53
Fixed the behavior of lava and water blocks when placing a block of slime or honey near them

The distance calculation towards the center block position when the user looks for an exit was corrected




The block 3D export screen does not contain a name field anymore

Fixed the incorrect calculation of the block position in the preview window

Loading / saving a structure block no longer affects the adjacent chunks

Added the possibility to summon any entity using the execute command

Fixed the particle animation

These are all the fixes you can explore by installing the present update but before hitting the download button, let us remind you of several rules regarding beta versions. First of all, you should back up the builds you are working on now before installing a beta because otherwise, you might lose them. Second, you cannot play in Realms while trying a beta. Your access to non-beta players will also be forbidden. And one more thing: the worlds created in a current version, be it a beta or a full version can only be accessed in this or a newer, upcoming version so if you are planning to use an earlier version in the future, make a copy of your build.
If you liked our article and the new game update, share it with all your MCPE buddies, and leave feedback.
Visit our
website
on a regular basis and you will always find out about the
latest game versions
among the first. Moreover, you will have the chance to explore the best
maps
,
texture packs
, and other game-related surprises. Have a good time!
Video of Minecraft Bedrock 1.16.100.53
---
28 August, 2020