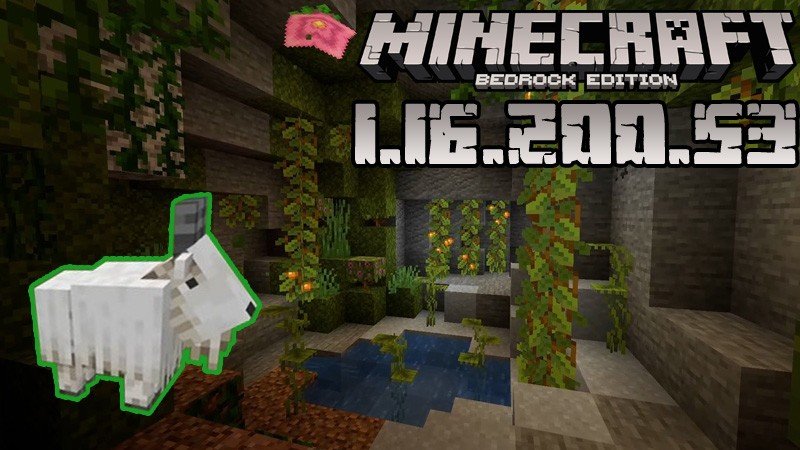 Minecraft PE 1.16.200.53
6 November, 2020
Game Minecraft PE
Dear Bedrock fans, if you are following our
website
, you couldn't have missed the release of
Minecraft PE 1.16.200.52
, a beta introducing us to several new features of the upcoming Caves and Cliffs Update. This week, the Mojang team continues to please us with more updates and interesting changes. Let us check
Minecraft PE 1.16.200.53
's con and find out what they are about.
Before getting to the list of fixes and new features, we must remind you to make copies of your existing Bedrock world before installing this beta, because otherwise, you risk losing it. You must also know that you cannot play in Realms and with players using full versions while trying a beta and that the quality of the builds created in a beta version might be not as stable as of those created in full game versions.
Bug fixes in Minecraft Bedrock 1.16.200.53
In this version, you will discover several great new opportunities for the player, but first, let us tell you about the detected issues that had to be fixed:
A crash happening occasionally when the user tried to load a local MCPE world

Player's hand bobbing when the bobbing setting is off

Loot tables with set_data function giving wrong loot items

Incorrect name of the "strawberry blonde" color in the Character Creator

Servers tab reading the text-to-speech prompts incorrectly

Incorrect text-to-speech indices on the player's start screen

UI controls indexed incorrectly in text-to-speech

Too transparent top row of buttons in the Touch user interface

Player getting knocked off even if he/she is wearing a full Netherite armor

Bees in the wild leaving their hives without turning back

The ghost items having the same color in the crafting grid regardless of their availability in the player's inventory

Problems navigating the Player Permissions menu

Owned packs not refreshing after the player restarts the game

Now that you know that all the above-listed problems won't bother you while you play anymore, let us reveal the beta's new features:
Good news for the Windows 10 users: the developers added many user interface elements for communicating the ray tracing abilities in the Marketplace. Now the resource packs are aware of the raytracing abilities and will show a special label about the UI support. Also, you will get a prompt telling you about missing min–spec hardware in case you are trying to purchase a resource pack requiring it.

New options regarding the in-game sound volumes. Now you will be able to control the volume of different in-game categories, for example, the mob sounds, the block sounds, and the ambient environment sounds.




If you want to try this update, hit the download button below the article, share it with all your friends, and leave feedback.
Follow us and you will always be up to date with the
latest game versions
and you will also get the chance to try a lot of free
mods
,
maps
, and other nice MCPE-related surprises. Have a great time!
Video Trailer of Minecraft PE 1.16.200.53
---
6 November, 2020