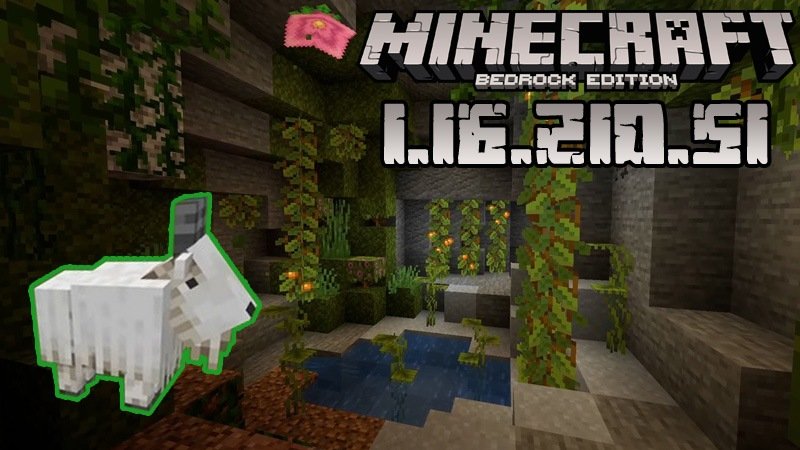 Minecraft PE 1.16.210.51
12 December, 2020
Game Minecraft PE
In
Minecraft PE 1.16.100
, the MCPE developers introduced two interesting experimental features from the upcoming Caves and Cliffs update. These were the goats and the powder snow. Today, in
Minecraft PE 1.16.210.51
you will get the chance to find out about the carried out fixes and changes done in relation to these features.
Before getting to the interesting part, let us remind you that 1.16.210.51 is not a full version and this means that you won't be able to play with full-version users and in Realms. You should also remember that the builds created in a beta are slightly unstable comparing to those created in full versions.
Another two important things you should know about is the fact that the installed beta replaces the existing MCPE world and that the builds created in the current beta can only be accessed using this or other upcoming versions. In both cases, you should not forget to make copies of your builds.
And now, let's see what is there to learn about the goats.
Goats in Minecraft Bedrock 1.16.210.51
If you are interested in the behavior of these active wild animals, starting with version, you can notice that they:
Don't ram towards objects that are behind obstacles

Get tempted easily and full blocks do not represent obstacles in their way

Are not jumping on magma blocks

Are able to jump over many non-full blocks placed in line

Do not crash the game if killed by a shulker

Are pathing towards one another in order to breed without facing any issues

Are obediently following players if set on leads

Are not able to give birth to more than one baby at a time

Armor stands do not present any interest when they attack

Knockback creepers without fearing that they will be attacked back

Don't fall short of or pass beyond their jumps

Don't jump extremely high in unexpected situations

Don't miss the players who aren't moving when ramming

Can drop only two horns and in case a goat drops only one horn the remaining one will be displayed on its model

Their babies do not jump as high and have a shorter knockback attack than the adult goats

The distance of their ram knockback depends on their speed

They knockback the first player/mob they intersect with

They make attempts to retake their targets in case that they previously move from under the ram attack

They are able to throw their targets very high in the air when attacking

Don't jump from honey

Jump on flat planes, but very rarely

Do not jump in case they get moved from their starting spot

Have modified colors of their spawn eggs

Have modified model animations

Have a minimal and a maximal ram distance and they usually choose the spot between them when ramming

Are able to go through non-solid blocks when following their targets

They attack players who are protected by shields but their attack damage is not that serious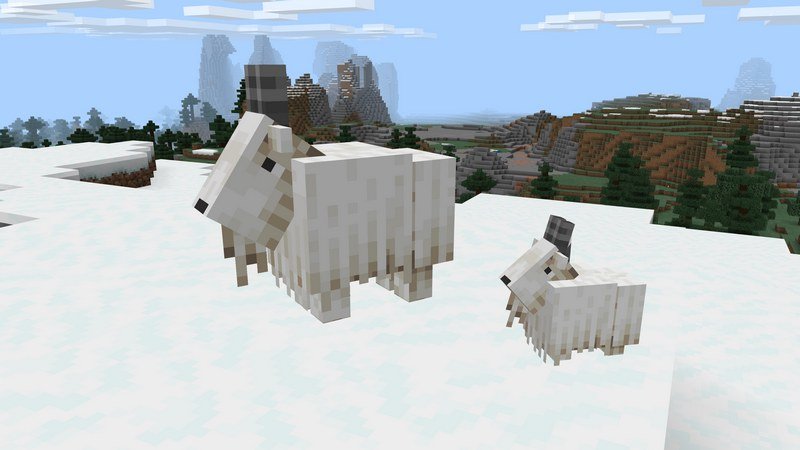 Other new game features:
Like we already told you, the MCPE developers focused mostly on the goats, but they also made some modifications in regards to the powder snow and other game aspects:
You will notice that the powder snow blocks have new breaking animations and that if you look at them through clouds, they won't appear transparent as they did before the release of this beta.

The old loading screen tips have been improved and updated

Several mobs that presented bugs earlier, namely the horses, zombie and skeleton horses and the donkeys can have custom names now

The behavior of the parrots who used to fly upwards for an unlimited period of time was fixed

The error preventing zombie villagers from transforming into v2 zombie villagers if cured was resolved

The MCPE developers also worked on a few minor graphical issues.

If you want to try this beta, watch the video about it (see below), hit the download button, share the article with all your Bedrock buddies, and leave feedback.
We invite you to subscribe to our
website
and this way you will always be up to date with the
newest game versions
and with the most popular
mods
,
maps
, and other game-related surprises. Have a good time!
Video of MCPE 1.16.210.51
---
12 December, 2020