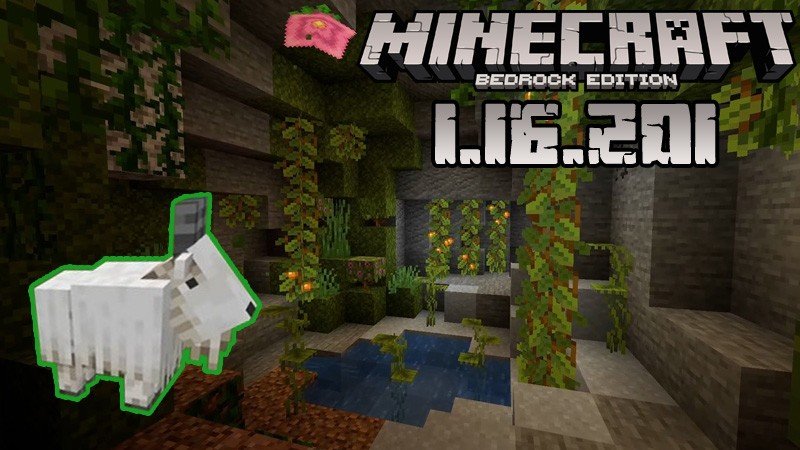 Minecraft PE 1.16.201
16 December, 2020
Game Minecraft PE
Recently, in
Minecraft PE 1.16.210.51
, the MCPE developers presented a lot of modifications done in regards to the behavior of the new mobs, which are the goats. We were all very impressed with this information, but there were several issues left unsolved, so they released
Minecraft PE 1.16.201
containing their fixes.
We must mention that this is a full game version, so you can install it and join Realms and other players who also use full versions without problems. Another good aspect regarding this and other full versions is that the builds created in it will be more stable than the ones created in betas.
What's new in Minecraft Bedrock 1.16.201
In this update, the MCPE developers carried out the next operations:
Fixed a crash that used to occur after suspending and resuming the game while creating a new Minecraft PE world (affecting only the players using Android devices)

Fixed a serious issue not letting the game launch at all (affecting some Windows 10 devices)

Fixed a bug making the main menu buttons invisible (affecting the players using old AMD graphics cards)

Fixed a bug making the contents of the Shulker boxes disappear when they are undyed with a cauldron




Fixed a crash that used to occur when double chests were opened by the player and these chests becoming invisible when placed on chunk borders

If you want to install this update, all you have to do is hit the download button located below the video trailer, but we hope you are a generous friend and will share the news about its release with other players. We would also appreciate it if you could tell us your opinion on it by leaving feedback.
Follow our
website
and you will not only be always up to date with the
latest game versions
, but will also have the chance to try a lot of cool free
texture packs
,
mods
, and more. Have a good time!
Video Trailer of MCPE 1.16.201
---
16 December, 2020