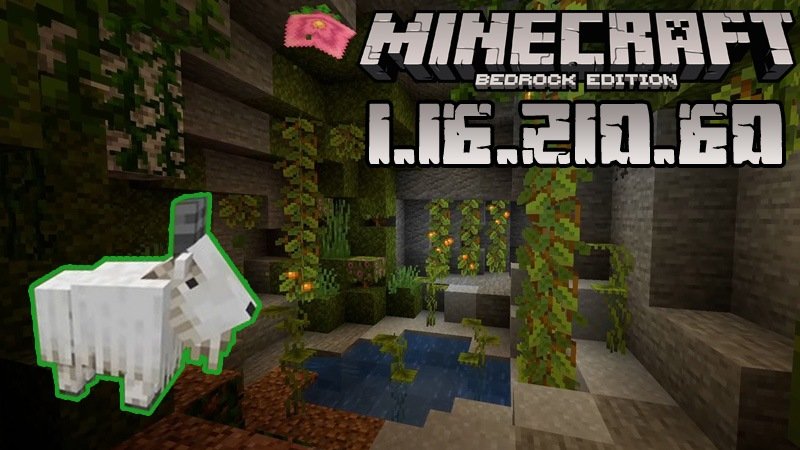 Minecraft PE 1.16.210.60
20 February, 2021
Game Minecraft PE
We are glad that you are following our
website
because we are trying hard to be among the first who inform you about the latest MCPE-related news.
Minecraft PE 1.16.210.60
is the freshest game update and even if it brings not only good changes, it is our duty to tell you everything there is to know about it.
Bugfixes in Minecraft Bedrock 1.16.210.60
Most of the players were pleasantly surprised by the new features brought by
Minecraft PE 1.16.210.59
which is the previously-released beta. Unfortunately, while developing the present version, the team working on the new updates noticed that these features cause serious problems making the game crash, so they had to remove them. Hopefully, we will have the chance to enjoy the awesome glowing squids and the rest of the features and abilities in a later update.
The features and abilities that we will have to postpone for a while were:
Glow Squids

Glow Item Frames

Possibility to color sign texts and make them glow using glow ink sacs

Besides this news, you should also know about several fixes carried out in this version. The MCPE developers worked on:
Fixing two game crashes happening when the user tries to interact with a sign having his/her hand empty and when he/she loads structure blocks with a skulk sensor




Making the time limit for choosing either to download a certain resource pack longer

Making the new achievement screens be initially turned on

Fixing the issue of the invite screen not refreshing automatically if the player visits the add member screen and returns back

Fixing several problems affecting the Character Creator and improving some of its features

Dear friends, please share this article with your friends because the news may be important for them too.
To find out more about the present beta, we recommend you watch the video trailer below.
If you want to get notified about the
latest game versions
and about the most popular
mods
,
maps
, etc., follow us and have a good time!
Trailer of MCPE 1.16.210.60
---
20 February, 2021