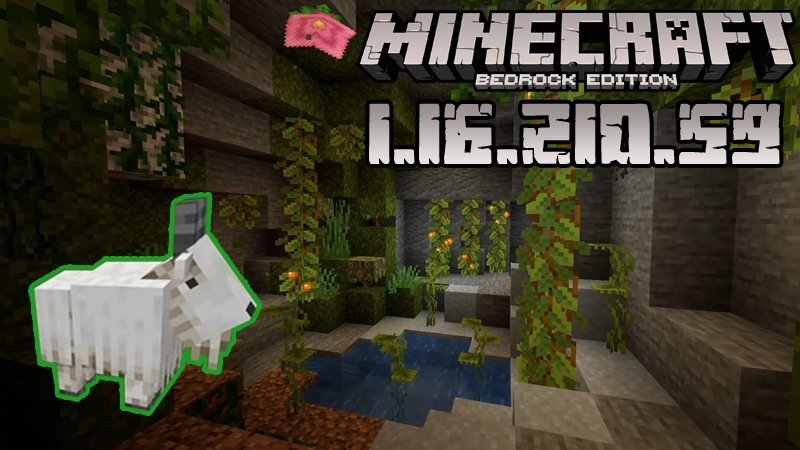 Minecraft PE 1.16.210.59
12 February, 2021
Game Minecraft PE
Minecraft PE 1.16.210.59
beta is already released and it brings new interesting features compared to the last week
Minecraft PE 1.16.210.58
beta that contained only fixes. Because they were only introduced, these features are not yet fully developed but we still can try them and see what cool possibilities they have to offer.
Of course that the MCPE developers did not ignore the existing problems as well, and made a lot of fixes in relation to the game stability, graphics, and technical aspect of the game.
Changes in Minecraft PE 1.16.210.59
So, the MCPE developers carried out the following actions regards the detected issues affecting our gameplay:
Resolved the problem of the game crashing in three situations: when playing with certain corrupted biomes introduced by some worlds brought from the Marketplace, when exiting an MCPE world (sometimes), and when playing on dedicated servers near villages

Resolved more issues not letting the screen reader work properly, for example when it should announce certain button names or when it should announce some Button Swap names

Resolved the bug affecting command blocks that used to suppress certain numbers

Resolved the issue of players failing to resume their mining process with touch control in case they get interrupted from this

Resolved a strange problem of the "change of sheets" trophy getting unlocked when a bed is being crafted

Resolved some problems affecting the skin preview option

Resolved the issue of the arrows stopping to fly in case a player gets shot with latency

Resolved the issue of the Incompatible button not being present in the Marketplace

Resolved several interface problems occurring when clearing store filters

Corrected the fog not looking as it should in the Nether dimension

Fixed a very serious issue affecting the Xbox users that didn't let them sync their gaming worlds with the cloud

Fixed the bug of the animation structures stopping to work after unloading chunks

Made command /schedule execute from the entity it came from in case the area is already loaded

Fixed other minor technical problems
Carried out some fixes and updates in regards to the Bedrock Dedicated Servers

Now that we know that all these issues were fixed, it is time to find out what new features we can explore:
The MCPE developers introduced a beautiful new mob, that is the Glow Squid. This creature can be spawned with spawn eggs. It looks magnificent but if you decide to destroy it, it will drop glow ink sacs.




The Glow Item Frame is the second new feature introduced with this beta. It can be obtained by combining a usual item frame with a glow ink sac dropped by the mentioned-above mob. Its aim is to make any object placed in it glow, even during the nighttime.

Starting with this update, everyone should be able to choose the preferred color for the sign texts and to make these texts glow using glow ink sacs. If you don't want an item to glow, you can remove this effect using a normal ink sac.
Another thing you should know is that if you are a Windows 10 user and are already enjoining the Ray Tracing option introduced in
Minecraft PE 1.16.200
, you will benefit from regular updates done in relation to the new feature plus the freshest Minecraft PE beta.
As you can see, there is a lot to explore in this version, so get ready.
Be the first to tell all your friends about this awesome update and leave feedback letting us know what you think about it.
If you want to check many new and free MCPE downloads and always be up to date with the
latest game versions
, follow our
website
and have a good time!
Video of MCPE 1.16.210.59
---
12 February, 2021