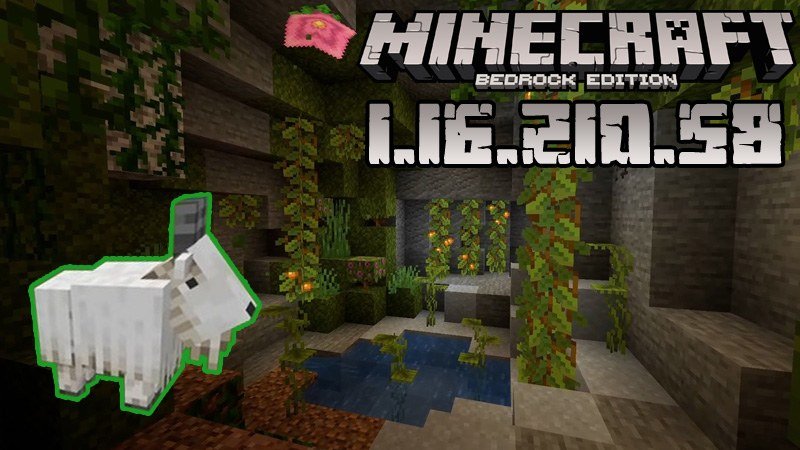 Minecraft PE 1.16.210.58
4 February, 2021
Game Minecraft PE
Some game updates bring us interesting new features. Last week and the week before it we had the chance to try such versions (
Minecraft PE 1.16.210.56
and
Minecraft PE 1.16.210.57
). Today, even if
Minecraft PE 1.16.210.58
has a rich list of features, they are all about bugs being fixed, but well, this is also useful and helps us have a better gameplay and prevent us from getting bothered by diverse issues while playing.
Bugfixes in Minecraft Bedrock 1.16.210.58
Fixed the "Dragons" map that can be purchased in the Marketplace

Eliminated the reason for a crash happening because of the achievements screen with low anti-aliasing

Corrected the plant growth process

Solved a problem affecting the tools in survival mode occurring when blocks are being broken




The textures of snow accumulating on blocks were fixed

TNTs that are submerged in water were made to launch the players




The failure to translate some achievement descriptions in other languages than English

Added updated links to the bug tracker and the official MCPE website

Made the mob spawn eggs appear in the player's hand with correct textures




Fixed the screen flickering when changing its size in Minecraft PE

Entities stopped loading in custom biome settings

Fixed a big number of component variables

Fixed a problem of some entities that didn't render normally behind parts that are transparent

Fixed a bug making emotes titles display the previously seen emote when the user re-enters tabs

Another issue occurring when the player is not online and making skins mix up in different categories was also fixed

Fixed the online statuses of cross-platform friends

The wrong texture of the dried kelp was corrected

Dear players, these and other several minor fixes can be explored by installing this version but we cannot let you click on the download button without preventing you that this is a beta, thus you will lose your existing worlds when installing it unless you make copies. Also note that while trying a beta version of MCPE, you cannot join players who prefer full game versions and Realms.
And now, when all the main fixes are enlisted, you can share this article with your Bedrock friends and watch the video trailer that contains additional information about it.
Follow our
website
if you want to be always up to date with the
newest game versions
and with the coolest
maps
and other game-related downloads. Have a good time!
Trailer of Minecraft Bedrock 1.16.210.58
---
4 February, 2021