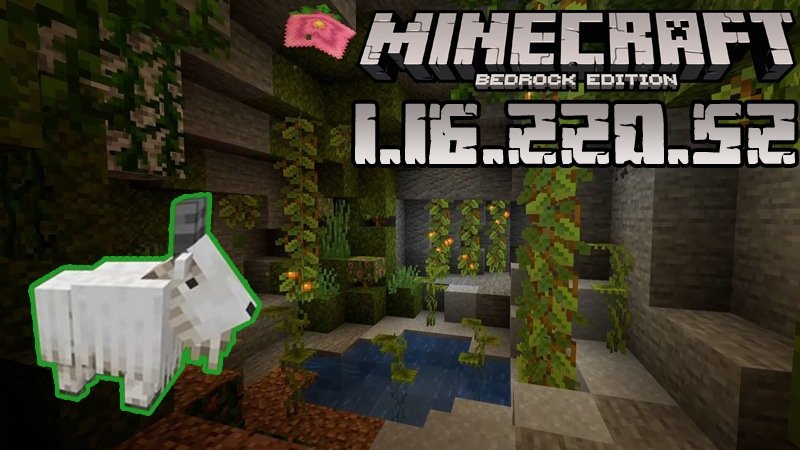 Minecraft PE 1.16.220.52
20 March, 2021
Game Minecraft PE
If you already managed to try the grand
Minecraft PE 1.16.210
full version (or even if you didn't), we invite you to go further and see what other new features the Mojang team developed for us this week.
Minecraft Bedrock 1.16.220.52
brings not only new features, modifications in the world modification but also a big number of fixes made in relation to the errors affecting some freshly-introduced features, including the lightning rod and the copper blocks.
Before starting, it is our duty to prevent you that you may lose your existing worlds when installing the present one, so please keep a copy of them. The worlds created in this version can be accessed only with it or with other upcoming versions, so if you are planning to use earlier versions, we suggest you make copies of your builds again. Also, note that you cannot play with people who use full versions and in Realms while trying the beta that we are talking about now.
New fixes in Minecraft Bedrock 1.16.220.52
As we already told you, there are a lot of new blocks for you to explore, but first, let's get it done with the fixed problems done in relation to the:
Lightning Rod:
When hit by lightning, they will make the copper's oxidation period slower, but only if they are placed near them

Fixed the color of leaves that have blocks around them and have the rod placed on them

Canceled their ability to connect to fences and walls, just like in the Java game edition

Fixed issue making liquids re-render when such rods are placed on them

Fixed problem of the player not being able to interact with any blocks if he/she holds such a rod in his/her hand

Made particles emit around it when there is a thunderstorm

Copper blocks:
Made particles emit around them when the player waxes them

Made particles emit around them when the player de-waxes them (see details about de-waxing copper below)

Made particles emit around them when the dispenser de-waxes them

Made particles emit around them when they are struck by lightning

Resolved a texture-related problem affecting these blocks' orientation in caves

Removed the ability to craft using them if they already oxidized

Made the sounds played when walking on them assigned to the Player's audio category

Made them craftable in the stonecutter if they are waxed

All their variants are implemented as separate block IDs

Gave the players the possibility to obtain two slabs when making them from blocks in the stonecutter

Fixed the coloring of stairs and slabs made of such blocks in maps

Made it de-waxable using a furnace

Added the ability to craft these blocks and their cut variants into stairs and slabs

Made it de-waxable using an axe. This way the player can scrap off the patina step by step

Character Creator:
Resolved an error making the "hurray" emote disappear from the emote list after it is purchased

Resolved an error making Alex's shirt look corrupted when the player equips it with different kinds of pants

Resolved an error affecting the changing skin process while playing in split-screen

Fixed a texture-related error making Steve's pants color the character's feet if he wears no shoes

Other fixes:
Resolved an error preventing the user from seeing the death message sometimes in VR

Resolved an error making text disappear from signs when the user loads an older world

Resolved an error making the Xbox and Switch users' data disappear when they play in split-screen

Made the texts from the settings screen in the storage screen of a lighter color

Resolved a problem affecting the textures of buttons when the user applies resource packs

Made it possible to use the back button using the keyboard

Resolved the errors occurring when the user applies the /clear command

Resolved the error preventing view bobbing from being disabled by the user

Resolved an error making crosshair lose its transparency

Resolved an issue affecting the piston's textures

Resolved an issue preventing fog from being scaled properly in the nether

Resolved an issue making texts on signs appear incorrectly

Resolved Minecraft PE crashing when the user and the bottle of experience hit the portal at the same time

Dear players, there are more fixes in this version, but we mentioned only the most important ones because we still have to tell you about the new blocks and don't want to take too much of your time.
So, there are a lot of cool new blocks for you to explore and interact with. All of them are meant to generate in Lush Caves. These blocks are:
Moss blocks and carpets

Cave vines with glow berries growing on them

Simple azalea and azalea leaves and their flowering variants

Hanging roots

Spore blossom blocks

Dripleaf blocks

Rooted dirt

Look at the picture below to see an example of the new Lush caves with all their blocks. If you want to see them in your Bedrock world, install this version and enable the Experimental Features toggle.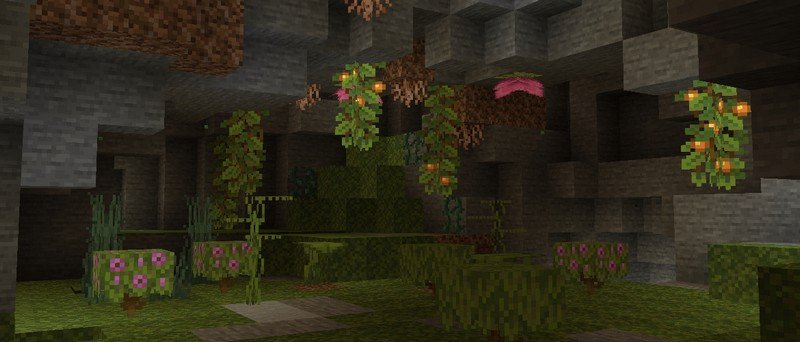 We hope you are as excited as we are about this release and all the surprises it contains. If you are, share the news with other players, and leave feedback.
If you want to be among the first to find out about other upcoming releases, subscribe to our
website
and we will notify you about them. Between the releases, you can also explore a multitude of free
mods
,
maps
, and other game-related articles with free download buttons. Have a good time!
Video of MCPE 1.16.220.52
---
20 March, 2021