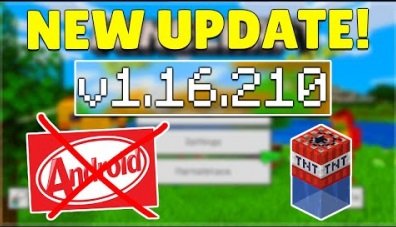 Minecraft PE 1.16.210
11 March, 2021
Game Minecraft PE
We have been all waiting for a full game version for a long time and here it is.
Minecraft Bedrock 1.16.210
gathers all the new features, changes, and bugfixes from the previously-released betas, thus giving us the possibility to enjoy a nice and smooth MCPE experience.
New features in Minecraft Bedrock 1.16.210
This version does not bring too many new changes. These are:
MCPE users can now click on the F11 keyboard button to switch to full screen mode when playing

MCPE users will hear even more ambient sounds when visiting the Nether dimension

An additional audio settings slider for the Bedrock users to control the text-to-speech option

KitKat OS users won't be able to enjoy the upcoming updates anymore and their devices are no longer suitable for buying realms

By bone mealing the bottom sand of oceans the MCPE users will notice that not only ordinary corals and sea weed is generated, but also coral fans, just like in the Java edition




The template packs intended for the mapmakers and addon creators have new resources and behaviors introduced. In addition, they will discover a new folder called "fogs" and it contains new documentation on Fog

The loading of entities in custom biomes was disabled

Introduced an additional offset to apply to such items as swords. This way the addon creators will be able to change their way of rendering

Added supplementary protection for the Bedrock Dedicated Server

These are the main new features you will discover by installing this update, but the MCPE developers also gathered all the bugfixes that they carried out lately and that were described in the articles about
Minecraft Bedrock 1.16.210.59
,
Minecraft Bedrock 1.16.210.60
, and other recent betas. The most noticeable ones were:
Resolved the problem of game crashing when players intended to leave their gaming worlds

Resolved the problem of game crashing when Windows 10 players applied Code Connection

Resolved the problem of game crashing when loading structures in game with structure_template_feature while the Include Entities switch is turned on

Resolved problem of getting stuck at the "locating server" stage when joining clients in case the view distance is four (or less than four)

Fixed problem of skins not saving in the world data when being offline with multiple players on split screen

Fixed problem of a certain trophy getting unlocked when the player crafts beds

Fixed problem of players getting fall damage when they shouldn't, for example when opening a shulker box, when teleporting, or when leaving their boats

Fixed parrots animation when flying

Fixed Render Dragon that used to be laggy in certain situations

Fixed crimson hyphae that is mined with silk touch not returning back blocks

Fixed lower layer of dried kelp not aligning properly with the rest of the block

Fixed buggy minecarts (in certain situations)

Fixed snow and ice not gathering correctly in snowy biomes

Fixed TNT launchers not working in survival

Fixed inability to craft with ink sacs and with gunpowder that is obtained by trading with the wandering trader




Fixed flickering screen, this bug taking place when the user tries to resize it

Fixed numerous bugs preventing the screen reader from working properly

Fixed characters typed in the command block converting into symbols, this preventing the command from functioning

Fixed the crafting menu and inventory lags

Fixed structure blocks in the overworld rendering their bounding boxes in the nether

Fixed durability bar disappearing in certain situations

Fixed failure to translate certain achievement names and their descriptions in other languages than English

Fixed invite screen not refreshing when the user returns to it after visiting the "Add Members" screen

Fixed events not appearing as suggestions in the event argument of /summon

Fixed command /clone not functioning correctly

Dear readers, these are the main changes and fixes you will discover by installing the present update, but if you are interested to find out more information about it, we invite you to watch the video trailer below.
Be a good friend and share the news about this long-awaited release with all the MCPE players you know and leave feedback.
Follow our
website
and you will always be up to date with the
freshest MCPE versions
. We also recommend you to stay tuned because today we will present an awesome new addon to you! Have a good time!
Video of Minecraft PE 1.16.210
---
11 March, 2021