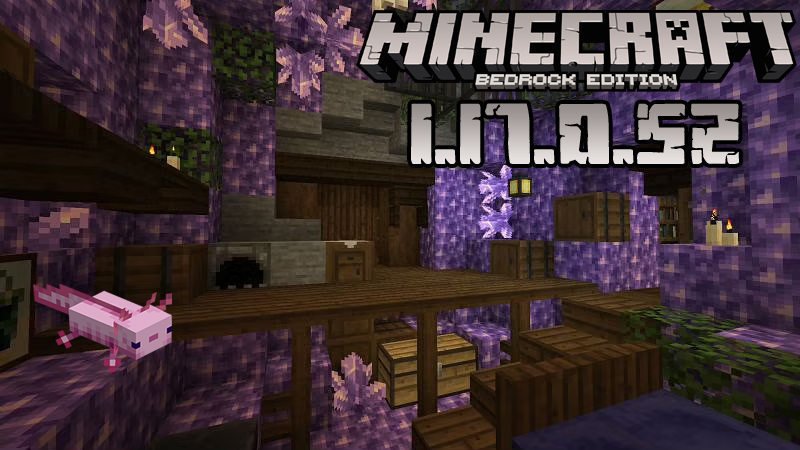 Minecraft PE 1.17.0.52
30 April, 2021
Game Minecraft PE
If you are an active Bedrock user, you are probably up to date with all the cool features developed lately and with all the talk around the Caves and Cliffs update. Last week we informed our readers about the release of the first beta of the grand update. If you managed to read the article, you probably noticed that the MCPE developers started making the experimental features non-experimental, this meaning that to enjoy them, players won't have to enable any toggles anymore. In
Minecraft PE 1.17.0.52
they managed to move even more features so we can welcome them officially.
Features of Minecraft Bedrock 1.17.0.52
Starting with
Minecraft PE 1.17.0.50
and continuing with the present beta, you will detect that the following features are non-experimental anymore:
Raw copper ores

Raw gold ores

Raw iron ores

Goats

Glow Item Frames

Glow Squids

Glow Ink

Dripstone

Pointed Dripstone

Powder Snow

Axolotls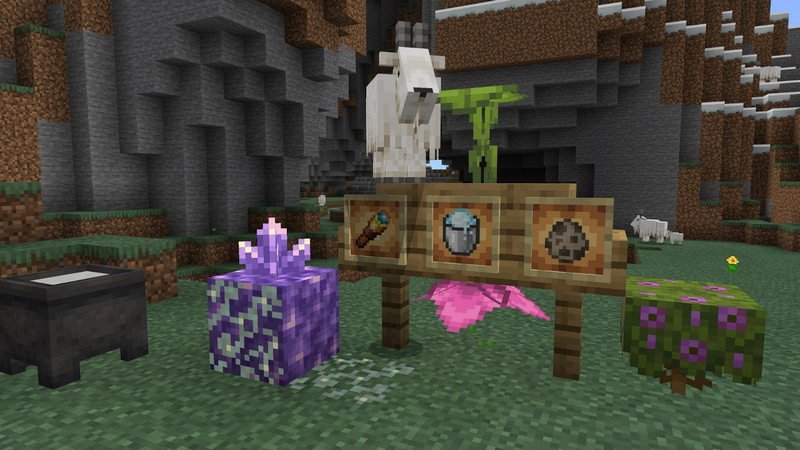 The developers noticed that some strange errors may happen when the experimental toggle is enabled, for example, mobs failing to spawn below a certain level and underwater view distance being totally different from how it was initially planned. Happily, these problems were resolved, but this is not everything they had to fix. They also had to resolve a lot of other problems, so they:
Moved the Caves and Cliffs toggle that was not localized correctly

Made the dripstones destroy as they should when the blocks they are placed on are broken as a result of block updates

Made trees grow normally when the player bonemeals saplings that are planted on moss blocks

Corrected the sounds emitted by axolotls and increased their swimming frequency

Introduced the possibility to repair stone tools and weapons on an anvil using cobbled deepslate, just like in the Java edition

Made powder snow fill cauldrons correctly

Made most mobs walk on powder snow correctly

Made mobs that are inside such snow freeze (this will happen step by step and eventually, the mobs will get damage)

Made buckets a useful tool for picking up and placing such snow

Fixed several minor issues affecting the glow lichen's map colors and visibility

Improved the colors of the texts that are applied on signs

Improved the colors of azalea and their flowering variants on maps

Made maps and posters shine inside glow item frames

Developed the possibility to obtain more raw ores when applying a fortune enchantment

Fixed a serious problem preventing users from connecting to Realms and multiplayer sessions while using cellular data

Fixed bugs affecting the underwater view distance and the underwater fog

Made boats break when interacting with cacti

Corrected the position of bows and crossbows when the player/mob shoots with it

Fixed a bug allowing players to craft different-colored fireworks using one single dye

Fixed a bug preventing mobs from making sounds when entering the water

Besides everything we have described above, you may also like to access your Creative inventory, because starting with this release, it contains:
Powder Snow

Spyglass

Deepslate

Lush Cave blocks

Lightning Rod

Copper

Tuff

Calcite

Amethyst blocks and all their variants

Smooth Basalt

Now that you know the main information about the new release, it is time to share the good news with other players and to leave feedback.
If you want to be among the first to find out about other upcoming versions, subscribe to our
website
. We will also keep you informed about the most popular
texture packs
,
maps
, and more. Have a good time!
Video of Minecraft Bedrock 1.17.0.52
---
30 April, 2021