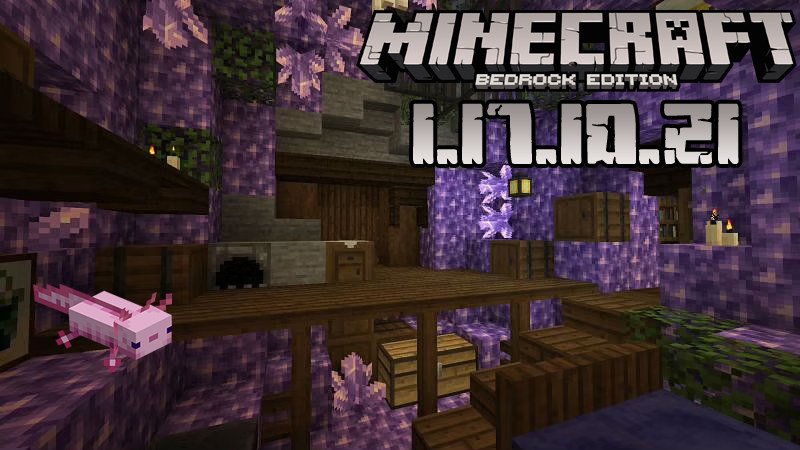 Minecraft PE 1.17.10.21
5 June, 2021
Game Minecraft PE
Dear Minecraft Bedrock fans, unfortunately, this week's release, that is
Minecraft PE 1.17.10.21
is not available for the Android users, but if you are one of them, don't worry because we are sure that you will be able to enjoy the future ones. Knowing how hard the MCPE developers are working, this will happen really soon, so be patient. Anyway, multiplayer with
Minecraft PE 1.17.10.20
released last week is still compatible with the one we will talk about today.
Fixes in Minecraft Bedrock 1.17.10.21
The game developers with the help of the most active game fans discovered that there are very many issues preventing MCPE from working as intended, so they:
Fixed a crash that used to occur when the Experimental features are on and the player breaks certain blocks

Corrected the numbers that used to be highlighted on the main menu page

Corrected a misspelled word in the "How to play" tab

Fixed the "Reset to Default" button that used to work incorrectly

Fixed issue of baby turtles despawning when the player travels at a certain distance away from them

Fixed a strange issue of players swimming on ceilings without being in the water

Fixed bastion loot table numbers not matching their numbers in the Java edition of the game

Fixed the issue of strays dropping wither skulls when killed by charged creepers

Fixed the issue of goats failing to ram on certain blocks (honey, slime)

Corrected goats' fall damage so it matches the Java edition

Corrected the speed of goats and other mobs moving when tempted by the player

Corrected the issue of villagers obtained from villager spawners in Marketplace maps that were developed using recent game versions not spawning as V2 villagers

Fixed the issue of glow squids changing their normal color into black when attacked

Corrected the height and size of all the horse variants in MCPE

Fixed the issue of amphibious mobs failing to walk on slabs

Fixed the issue of music discs disappearing after being used in the jukebox

Fixed the issue of villagers refusing to buy pumpkins

Fixed the issue of underwater fog color not matching the one in the Java edition

Fixed sign colored texts having a too dark color

Fixed the issue of ink sacs being usable indefinitely on signs

Fixed the issue of missing tooltips when using controllers on normal and glow ink sacs

Fixed the issue of glow ink sacs not working on signs

Fixed the issue of sign texts that are colored with ink sacs not being outlined like in the Java edition

Fixed the issue of grindstone not removing higher XP costs for later repairs when disenchanting items

Updated the DisplayNameItemComponent documentation

Fixed the issue of ice blocks that are created with frost walker enchantment not being detectible or placeable with commands

Fixed the issue of glow lichens not dropping their selves when sheared

Fixed the issue of diamonds generating with an incorrect distribution

Fixed the issue of azalea and flowering azalea not being placeable in pots




These are the main bugfixes carried out for the new beta. For more information about it, we recommend you watch the video trailer.
Subscribe to our
website
if you want to be informed about all the upcoming releases and about the newest and coolest
mods
,
texture packs
,
maps
, and other surprises. Have a good time!
Clip Trailer of MCPE 1.17.10.20
---
5 June, 2021