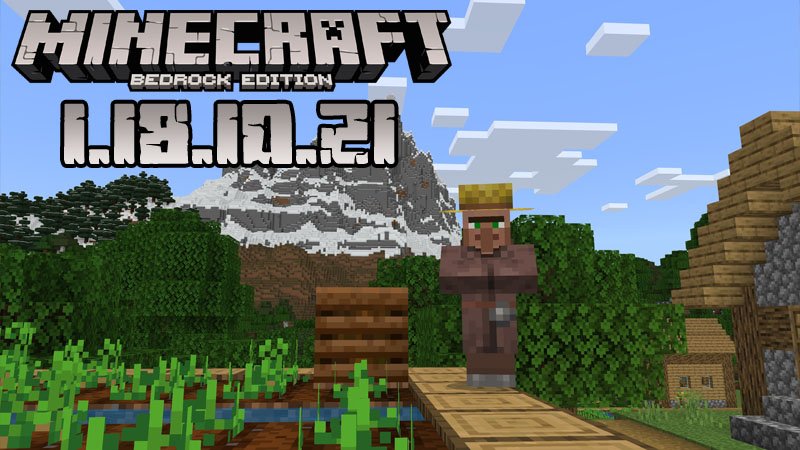 Minecraft PE 1.18.10.21
4 December, 2021
Game Minecraft PE
Our
website
's subscribers and lucky guests will be among the first players to try the newest game beta, that is
Minecraft PE 1.18.10.21
. Even if its release is not as spectacular as
Minecraft PE 1.18
full version released this week, we still recommend you check it because, besides the traditional bug fixes, it brings several interesting changes and an awesome new feature.
Changes in Minecraft Bedrock 1.18.10.21
This time the game developers:
Introduced another experimental features toggle that will allow you to explore many interesting things, but for now, it only includes the skulk blocks and other similar features.

Prevented the hoodoo bottoms in badlands from creating flat ceilings in the caves located underneath them




Removed the lily pads from the aquifers located under swamps

Made fossils appear below y=0, but not with coal ores like they did before. From now on, they will generate together with deepslate diamond ores.

Removed the fossils that used to float in waters and caves before

Prevented mineshafts from generating directly inside bedrock

Modified the frequency of the decorations in different biomes

Introduced a prompt that would allow players to be informed that they risk losing data when setting the file storage location to external devices

Made villagers and pillagers celebrate after defeating raiders in a raid

Fixed a few minor bugs affecting the UI

Fixed a bug making item data corrupted when placing items in a mob's hand

Fixed the bug preventing mobs from jumping on blocks to get items

Fixed the issues of wolves not reacting as they should when attacked

Fixed animation issues affecting axolotls' behavior

Improved the blocking animation when wielding shields from first-person

Made light blocks' light intensity controllable using the interact button or right-click

Fixed a bug making furnaces give an incorrect number of items after finishing smelting something

This beta also brings good news for the map makers and addon creators. This way they will be able to create better content and face fewer problems during their work.
Before downloading and installing this update, we also recommend you watch the video below the article because you may find out more details that might interest you.
Keep following us and besides detailed information about the latest
game versions
, you will have the opportunity to try many interesting new
mods
,
maps
, and other surprises and share them with your friends. Have a good time!
Video of Minecraft Bedrock 1.18.10.21
---
4 December, 2021