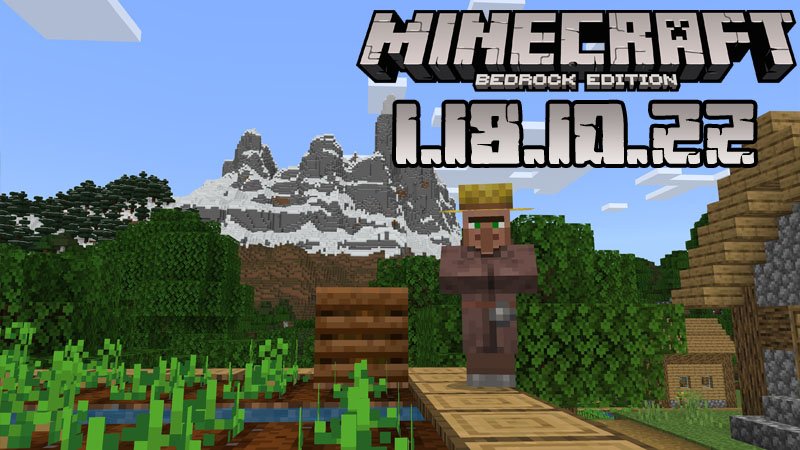 Minecraft PE 1.18.10.22
11 December, 2021
Game Minecraft PE
We know that you didn't have enough time to try
Minecraft PE 1.18.2
because we told you about its release only a couple of hours ago, but there is a second new version you should know about, namely
Minecraft PE 1.18.10.22
. After reading this article, you will have the entire weekend to check both releases and even to leave feedback and let us know what you think about their features.
What's new in Minecraft Bedrock 1.18.10.22
The present beta brings a lot of good changes. The most noticeable ones are:
Deepslate replaces all bedrock in worlds updated to Minecraft Bedrock 1.18

Players can place light blocks on top of other such blocks when sneaking

Button Invite to Game becomes inaccessible in case the server is completely full

Player's inventory screen is displayed correctly while flying

Slimes are not peaceful in relation to the snow golems anymore

The gaming world does not crash when interacting with villager cartographers anymore

Player's vision does not snap when driving boats from first-person

Lava's broken hitbox is corrected

Chorus fruit does not prevent players from teleporting anymore

Food applies effects correctly and honey bottles cancel poison effects as they should

Witches, vindicators, and evokers do not wear hoods anymore

In this version, the game developers also paid special attention to the graphics and they fixed and improved a lot of textures, among which those of the:
Dirt paths

Parrots

Melon/Beetroot seeds

Cocoa beans

Smooth stone in armor stands

Oak/Iron doors

Stained glass

Spruce/dark oak planks

Gold/Diamond armor

Carrots




Axolotls

Glass panes

If by any chance besides being a player, you are also a content creator, you will also discover a very big number of helpful technical updates that will help you in your activity.
For more details about this game update, watch the video below the article.
When you are ready, install and try this new beta, and when you finish exploring everything the Mojang team carried out this week for us, return to our
website
and check the new articles about
Mods
,
Maps
, and other game-related stuff that is meant to make our Bedrock experience better and more interesting. Have a good time!
Video of Minecraft Bedrock 1.18.10.22
---
11 December, 2021