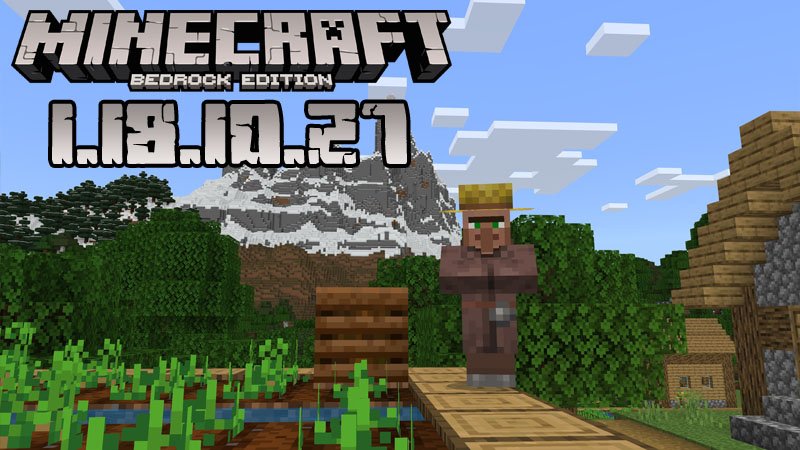 Minecraft PE 1.18.10.27
13 January, 2022
Game Minecraft PE
Only a couple of days ago we had the chance to explore the first version released this year, namely
Minecraft PE 1.18.10.26
. We hope you already managed to check its changes, including the cool new blocks dropped by frogs because there is another new beta for us to try and this is
Minecraft PE 1.18.10.27
.
Fixes in Minecraft Bedrock 1.18.10.27
In this version, the MCPE developers focused their attention on fixing fourteen issues detected lately:
Frogs cannot eat goats anymore

A bug making inventory slots disappear was fixed

Cocoa pods do not make the game crash if placed on chunk borders

Multiface blocks get transformed correctly by structures from structure blocks

Observers do not remain lit in the player's inventory if they were broken when blinking

Paintings do not overlap other things

Pillagers and golems spawn as they should spawn in Pillager outposts

Boats do not disappear after being used on long trips

The color of boat oars matches the color of boats




Players can leash cats without taming them first

Normal and Elder Guardians do not sink when they target someone

The color of some inventory screen features was modified

The problem of some empty inventory screen slots was resolved

Chests spawn normally in structures

Several technical modifications for developing and testing addons and maps were also carried out, but we will leave them for the content creators.
And now it is time to try this beta because we are sure that very soon we will have other new ones to explore and we do want you to enjoy every useful change done in relation to your favorite game.
Please share the news about this release with all your friends and let us know what you think about its features by leaving feedback.
We will inform you about all the new
game versions
as soon as they appear, but to benefit from this opportunity, you should follow our
website
. This will also allow you to try dozens of cool
maps
,
mods
, and other surprises that will make your Bedrock experience better and more interesting. Have a good time!
Video of Minecraft Bedrock 1.18.10.27
---
13 January, 2022