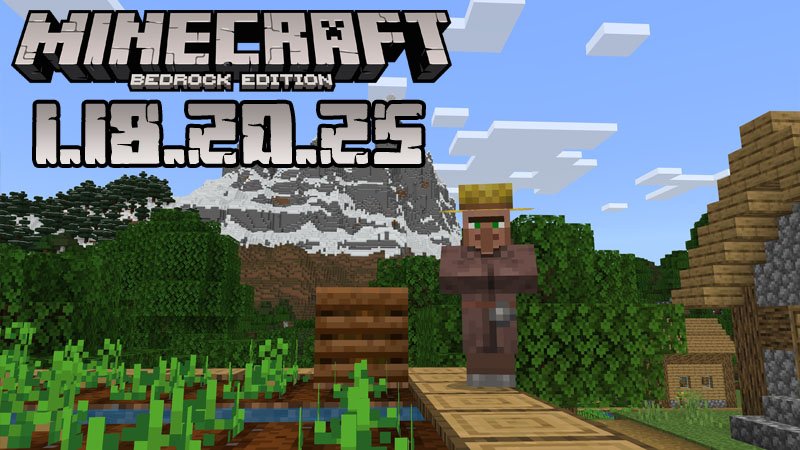 Minecraft PE 1.18.20.25
14 February, 2022
Game Minecraft PE
If you are subscribed to our
website
, you probably already know about the
Minecraft PE 1.18.10
's release. If you don't, we highly recommend you check it because it gathers hundreds of features brought by the latest beta versions. In addition to the full version, the Mojang team also released a new beta called
Minecraft PE 1.18.20.25
and we will describe it to you in this article.
New features in Minecraft Bedrock 1.18.20.25
The experimental features are becoming more and more interesting with each released beta. In the present one, the game developers:
Added a sound that plays every time a goat loses its horn

Added animations that you will be able to see both from the first and third persons when a goat horn is used

Retextured the froglights and fixed a bug preventing them from rotating correctly




Fixed a bug affecting the frog spawn's textures when looked at from behind

Added the possibility to tempt frogs vertically (this change affects turtles too)

If we are talking about the non-experimental features, you will discover some changes done in that direction too. These are:
A fix done in relation to command /playanimation when applied towards the paper doll and towards the inventory character

The Armorer Diamond trade moved to the Journeyman and the Weaponsmith enchanted Iron Sword one to the Novice

Clerics trade glowstone dust instead of glowstone as they did previously

The wood type offered by the Fisherman Boat traders corresponds to the biome now

The Create New World screen contains a Resource Packs tab now

The crouching state of the player gets reset every time he/she dies

A fix done in relation to the Fire Resistance effect

The possibility to use JumpToBlockGoal while riding a boat is canceled

The player's hunger rate was tweaked and you can notice this when jumping, swimming, and sprinting

Players can modify their exhaustion rate in Behavior Packs

Of course, the developers did not forget about the technical aspect of the game. They have fixed a bug affecting the ray tracing and carried out several updates.
If you want to stay informed about the upcoming
game versions
, continue following us. This will also give you the possibility to try the newest and most popular
maps
,
mods
, and other surprises. You can share your favorite articles with your friends, and leave feedback. Have a good time!
Video of Minecraft Bedrock 1.18.20.25
---
14 February, 2022