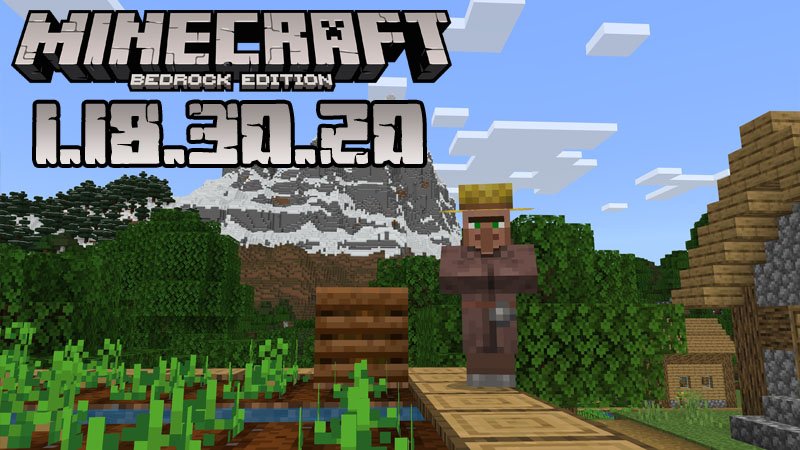 Minecraft PE 1.18.30.20
7 March, 2022
Game Minecraft PE
Every new game update makes our MCPE gameplay better and more interesting. Today, by installing the new
Minecraft PE 1.18.30.20
, you can discover that there are fewer issues affecting some commands, mob behavior, blocks, the technical aspect of the game, etc. Moreover, the game developers even added several new features to make us more familiar with the upcoming
Minecraft PE 1.19
also known as the Wild Update and carried our many vanilla parity changes.
Features in Minecraft Bedrock 1.18.30.20
This version, like the rest of the
game versions
, contains bug fixes. This means that after installing it you won't have to face any of the following issues anymore:
Game crashing when resuming the world (problem affecting only the Android devices)

Menu not being displayed correctly when in split-screen

Broken terrains around certain structures

TNT disappearing when using certain settings

Gravel, sand, and other gravity-affected blocks not landing on top snow as intended

Broken texture of glow squid

Players on fire being displayed incorrectly sometimes

Leather armor being displayed incorrectly on paperdolls

Ravagers having a wrong attitude towards wandering traders

Mobs from dispensers not spawning correctly

Multiple bugs affecting the shulker's behavior and textures

Text being displayed incorrectly when using the Create New World screen

Cartographers not trading certain kinds of maps

Command /loot not working correctly

Multiple technical bugs

After fixing these and other several minor bugs, the developers decided that they can make this release even better by:
Adding durability to diamond and nether armor and improving their response towards different attacks




Making villagers create bonemeal from their excessive seeds in the composter and using it on crops so they can grow faster

Making sculk shriekers react to sculk sensors

Modifying the threat level that will make the Warden appear in the upcoming Wild Update.

We are sure that not all the MCPE players know about this release yet, so be the generous one who shares the news with them.
If you have any suggestions or complaints regarding any of the above-described features, feel welcome to leave feedback. You can also leave feedback for any other article published on our
website
.
Follow us and besides being always up to date with the freshest game-related news, you will also get the chance to try dozens of free
mods
,
texture packs
, and other cool surprises. Have a good time!
Video of MCPE 1.18.30.20
---
7 March, 2022