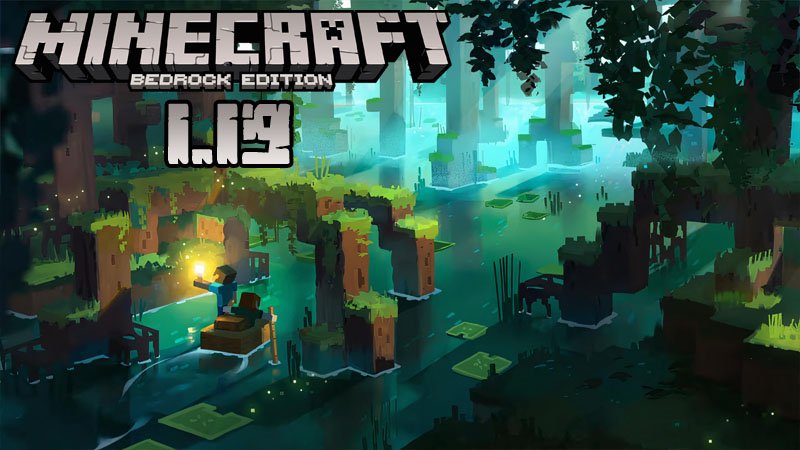 Minecraft PE 1.19
15 January, 2022
Game Minecraft PE
The release of both parts of the Caves and Cliffs update, also known as
Minecraft Bedrock 1.17
and
Minecraft Bedrock 1.18
were definitely the most major events in the Bedrock community that happened last year. Most of the players already managed to enjoy everything they had to offer and are already expecting another great update. The MCPE developers promised to release such an update sometime in 2022, but we do not know exactly when. Actually, we are not sure that the developers know the exact date either, because the information about
Minecraft Bedrock 1.19
they offer is basic and they are planning to add more features and make it even more spectacular than the Caves and Cliffs. They called the upcoming update The Wild Update and if you will read this article to the end, you will find out why.
Features of Minecraft Bedrock 1.19
If you are reading the articles published on our
website
regularly, you probably know that
Minecraft Bedrock 1.18.10.21
brought an experimental toggle named after the future 2022 update. By enabling it, you can enjoy some of the upcoming features. For now, it only contains skulk blocks and frogs, but hopefully, more features will come soon. Even if you cannot see and explore them yet, we will tell you about the ones that the Mojang team decided to reveal so that the users could know what to expect, at least partially.
Mobs
As far as we know, the Wild Update will bring four new mobs. It is possible that you have heard about two of them, but we will describe them anyway because you may find out something new about them.
The Warden. This is one of the mobs you already heard about. This is because the game developers were initially planning to include it in Minecraft PE 1.19 and we mentioned this in the article about that version. Because for some reason this did not happen, this monster will enter our worlds in 2022. This mob is not just hostile. He is a mini-boss and the only way to stay alive after meeting him is to make so that he does not sense and hear you. His blindness is compensated by his sensitiveness towards sounds and vibrations, thus you should move as quietly as possible. It is even recommendable to sneak when you hear a Warden coming. You will hear him from big distances because he is very loud and makes horrible sounds. The game developers warn that this mob should not be fought with because players have no chance to survive his attacks.




The Frogs. We are sure you already met a frog or two if you enabled the experimental toggle and tried Minecraft PE 1.18.24 or later game betas. These creatures walk either in water or on land, but only the adult ones. The tadpoles can survive only in water. There are three kinds of frogs and a frog's type depends on the biome it spawns in. Just like in the case of fish, tadpoles can also be picked up using a bucket.




The Fireflies. These insects have the target to make our gaming worlds livelier because they are beautiful and they glow in the darkness. Sometimes, they can become a nice lunch or dinner meal for the frogs.

The Allays. These tiny winged creatures are purely magic. You can give them one item and after a while, they will bring an entire stack of these items back. It will collect the required items all over the Minecraft Bedrock world. These cuties also love music and dancing. With their presence, our gameplay will definitely be more fun.




Biomes
When we were still thinking that the Warden will come to us together with MCPE 1.19, we also found out about its home-biome. We will describe it below, but also another beautiful biome that will invite us after the grand release.
The Deep Dark Biome. This huge underground biome is Warden's home. Despite its location, the deep dark has nothing in common with the caves we already explored backward and forwards. Here are a lot of skulk blocks (you can already experiment with them by enabling the Wild Update toggle). Skulk catalysts that can make skulk blocks spread are also a specific feature of this place. Inside this biome, you will also discover ruined cities that are a delight to explore if you like everything mysterious.

Mangrove Swamps Biome. This is another new biome and it represents a different variation of the already well-known swamps. These swamps are totally covered in mangrove trees that grow on land and in the water. Just like any other tree, these new ones can be transformed into wood and used in crafting different things, for example, stairs.




Besides working on these two biomes, the developers will also update the existing ones and will make them unique and very beautiful.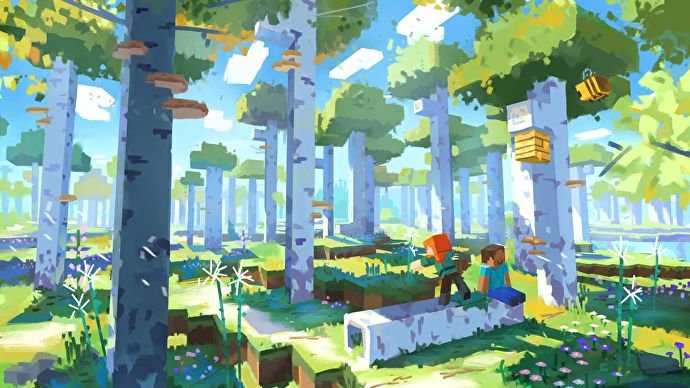 More features
There are a few more features that we also can't wait to see. These are:
Boat with chest. This feature will make traveling easier and more comfortable because you can carry all your belongings along with you without worrying that you are out of inventory space.




Mangrove Wood and all its variations. This wood can be obtained from mangrove trees. Of course, along with the wood, you will discover mangrove trees, roots, saplings, etc. Some of them can be used in crafting recipes and some, for example, the roots can serve as decoration elements.

Mud and Mud Blocks. This new material can also be found in mangrove swamps. You can also obtain it by mixing water and dirt, but why bother if it can generate in a natural way? Mud blocks can also be turned into clay by placing them on top of dripstone blocks. They can also be crafted into mud bricks that can be used in building different structures, for example, houses.




Dear friends, for now, this is everything we could find out about the upcoming update. Please share this article with your friends and leave feedback if you want to tell us about your opinion on all these new features.
Keep following us and we promise to keep you informed about everything that happens in Minecraft Bedrock. Have a good time!
Video of Minecraft Bedrock 1.19
---
15 January, 2022