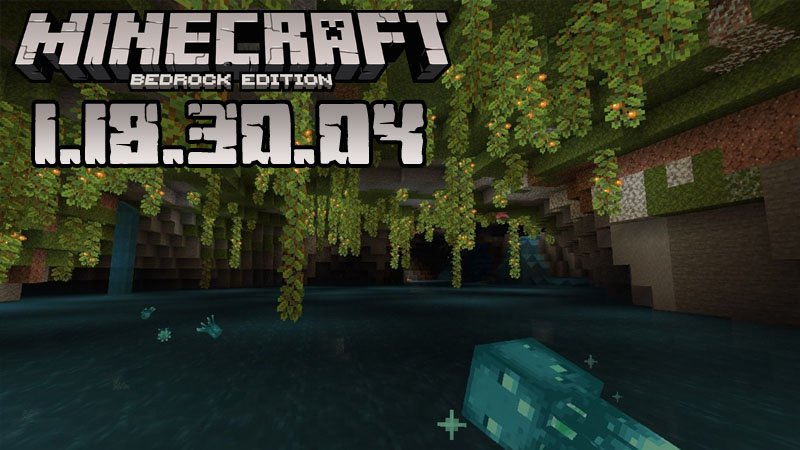 Minecraft PE 1.18.30
22 April, 2022
Game Minecraft PE
You have probably noticed that the Mojang developers already started releasing Wild Update betas two weeks ago (See article about
Minecraft PE 1.19.0.20
), but this does not mean that they have forgotten about the previous big update, that is the Caves and Cliffs. This week they gathered all the fixes, updates, vanilla changes, and more from the latest 1.18 betas and released
Minecraft PE 1.18.30
full version.
Main changes in Minecraft Bedrock 1.18.30
Because there are dozens and dozens of changes and fixes, and we don't want to take much of your time, we will tell you only about the most noticeable ones. These are:
An improved Create New World with more possibilities and a very nice new design




Deleted worlds made using Realms that were not renewed more than a certain period of time ago

Experimental features that include wardens, allays, deep dark, sculk features, darkness effect, goat horns, etc.

Pilot Spectator Mode. This feature is not yet fully developed and not accessible on all devices.

Attacks of raised shields with axes disable the shields for several seconds

Modified hunger calculations

Modified damage calculations

Possibility to create new maps using 64 bit seeds

Render Dragon becoming available gradually on all devices used to play Minecraft PE

Serious work done to fix the occurring crashes

Improved village trades




Corrected animations of players while sneaking and flying

Corrected terrains surrounding villages and other structures

Corrected numerous UI-related bugs

The video below this article contains more detailed information about this release, so if you want to know everything about it before hitting the download button, watch it.
Because the update contains so many features, we could talk about it for hours, so we would really appreciate it if you could leave feedback letting us know what you think about it.
If you have friends that are as passionate as you are about Minecraft Bedrock, share this article with them so they can try it too.
The game developers release new
game versions
on a regular basis, so if you want to be up to date with all of them, the best way to do this is to follow our
website
. This will also allow you to check dozens of cool
maps
,
mods
, and other surprises free of charge. Have a good time!
Video of MCPE 1.18.30
---
22 April, 2022