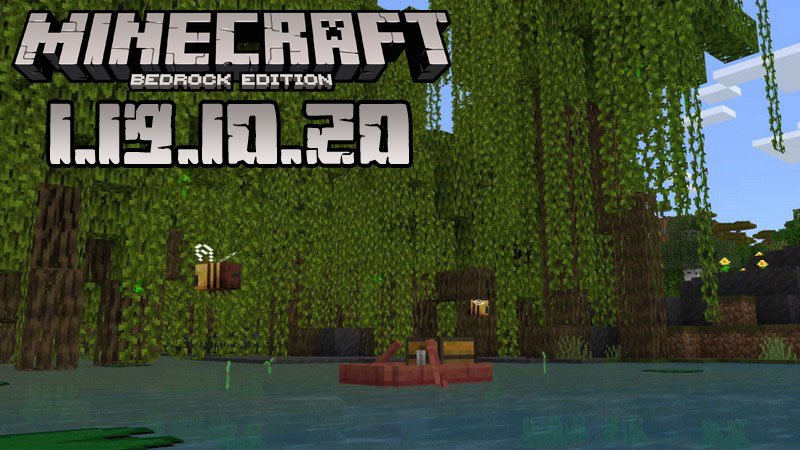 Minecraft PE 1.19.10.20
30 May, 2022
Game Minecraft PE
We are pretty sure that you are one of those players who try to find out about the freshest game-related news among the first in order to be the one who shares them with the rest of your gang. This is why we do our best to publish articles about the new
game versions
as soon as they get released. Today we want to tell you about another new update, namely
Minecraft Bedrock 1.19.10.20
.
Fixes in Minecraft Bedrock 1.19.10.20
The list of fixed problems is very long this time, so we will write down only the most serious ones affecting:
The Wild Update Features (wardens failing to move smoothly in water and making unnecessary sounds and animations when despawning in liquids, sculk sensors not recognizing certain vibrations or detecting vibrations that they shouldn't detect, items from allays not stacking correctly, sculk veins dropping incorrect items or correct ones but in an incorrect amount, sculk shriekers not sensing players who ride mounts, mangrove propagules not growing because of the leaves, mangrove logs missing from bonus chests, villagers in mangrove biomes spawning as ordinary villagers instead of their required biome variants, clay patches being distributed incorrectly within mangrove swamps, tadpoles not growing into their correct adult variants in mangrove biomes, etc.)




The Touch Controls (jump button not working correctly, touch controls not working when trying to descend from scaffolding tops, etc.)

The Spectator Mode (spectators not being able to breathe, hunger level modyifng when the player moves around in this mode, insomnia timer continuing to tick when entering this mode, projectiles not flying through spectators, etc.)

The Graphics (items held in the offhand rendering incorrectly, barrier blocks displaying strange textures when seen from certain angles)

The UI (time of notification display not being adjustable, Friendly Fire gamerule being in the wrong tab, XP bar having an incorrect position on the screen)

The Mobs (Incorrect name of trader llamas in their inventory, goats not dropping horns in certain situations, slimes not spawning in worlds older than those created in Minecraft Bedrock 1.18, etc)

The Blocks (sounds emitted by froglight having a wrong volume, advanced pick block not making copies of the objects inside them when using chest boats, mangrove leaves not stacking correctly when sheared, etc.)

The Stability of the Game (crashes occurring when wither is loaded into the gaming world and when chests are unloaded from it)

The Technical Side (outdated names of certain components, autocomplete suggestions displaying invalid parameters, etc).

Dear friends, now you have two options: either to hit the download button and try this new beta or to watch the video trailer below this article in order to find out more information about it.
Keep visiting our
website
on a regular basis and, as we already mentioned, you will always be up to date with the latest news. You will also have the chance to try many different
texture packs
,
maps
, and other cool surprises and share them with other users. Have a good time!
Video of MCPE 1.19.10.20
---
30 May, 2022