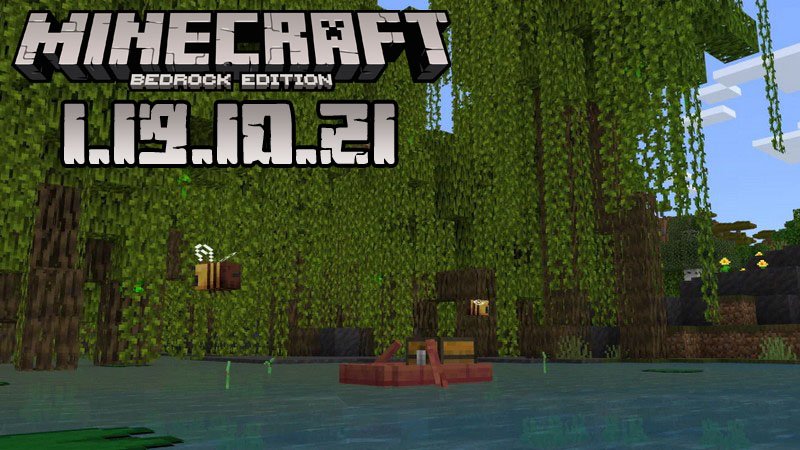 Minecraft PE 1.19.10.21
8 June, 2022
Game Minecraft PE
School is over for most of us and we all started to enjoy summer at its best, but not the Mojang team developers. These guys are working hard to make our Minecraft PE experience better and more interesting with each upcoming week. In case you missed it, last week we discussed
Minecraft PE 1.19.10.20
and the multitude of changes it brought. Today we will do the same, but with another game version called
Minecraft PE 1.19.10.21
.
Bug Fixes in Minecraft Bedrock 1.19.10.21
This update contains more than fifty bug fixes and several changes. Let us start with the changes because we know they are of more interest:
The Spectator Mode continues to get updated. Now effects can only be applied using commands. The ones obtained from the gameplay do not work on the actors who use this mode. Another new thing about this mode is that spectators who have bad omen cannot trigger raids in a village.

The usage and functionality of nether portals were improved, especially when actors exit it.

Muddy mangrove roots can be broken much faster if using a shovel and the ordinary roots from the same biome when using an axe.

Most structures inside ancient cities (including campgrounds) were updated to match Java.




Mobs and blocks retain information after saving and reloading the game.

Sculk sensors react to more kinds of vibrations, while some vibrations they used to react to were canceled.

Mangrove propagules make sounds similar to those made by grass.

Villagers and wandering traders run away from zoglins.
The cause of death is now written on the player's death screen.

And now, we will tell you about several game features that presented issues:
Wardens (getting summoned underwater, not being able to spawn on certain kinds of blocks, its sonic boom attack not working when the player uses certain enchantments to reduce the damage)

Mangrove Biome (propagules getting broken by flowing water, leaf blocks getting placed into separate stacks, stripped mangrove logs being crafted into an incorrect type of wood, impossibility to plant vegetation on mud and other blocks from this biome)

Character Creator (using the dressing room making the screen load infinitely, incorrect size of the text inside the emote wheel)

Graphics (bugs affecting leads, elytra, crossbows, shields, tridents, player's position while sleeping while playing in split-screen, incorrect speed of fog expanding in certain situations, terrain flickering sometimes on Switch)

Marketplace (TTS not reading correctly "minecoins", incorrect rating percentage, missing buttons on imported skin packs)

UI (several incorrect death messages, achievements remaining on new worlds created with templates, misaligned text in modals)

Game's stability (crashes happening when switching dimensions and when death occurs because of withering)

Happily, these and other issues were resolved promptly and now we can have an even smoother and better gameplay.
If you want to share the information about this release with other players, you are welcome to do so! We would also appreciate it if you could tell us what you think about the carried out changes.
Keep visiting our
website
and you will always know what the MCPE developers do and are planning to do in regard to your favorite game. You will also discover many new
texture packs
,
mods
, and other surprises to make your Bedrock experience even better! Have a good time!
Video of MCPE 1.19.10.21
---
8 June, 2022